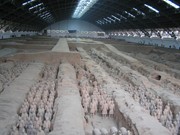 Photograph of Some of the Excavated
Remains of the Chinese Terracotta
Army Warriors, Shaanxi province.

Some of the 8,000 Terracotta Warriors.
See also: Chinese Painters.
TERRACOTTA SCULPTURE
For an earlier masterpiece of
unglazed clay sculpture, see:
Thinker of Cernavoda (5,000 BCE)
LATER CHINESE SCULPTURE
Chinese Buddhist sculpture.
CLAY ART IN CHINA
For a guide to celadon and other
ceramics, see: Chinese Pottery.
For fine "China", see:
Chinese Porcelain.
Chinese Terracotta Army (c.246-208 BCE)
The major cultural achievement of Qin Dynasty Art (221-206 BCE) and one of the greatest archeological finds in the history of Chinese art, The Terracotta Army (also known as the "Terracotta Warriors") is a massive collection of terracotta sculpture consisting of 8,000 clay warriors and horses which were discovered in 1974 next to the mausoleum of the First Qin Emperor, Qin Shi Huangdi, who died in 210 BCE, in Shaanxi province, China. Each statue is unique and, according to curators of the tomb, there are tens of thousands more figures still to be uncovered. The Terracotta Army represents the largest hoard of ceramic art found anywhere in the world, and remains the greatest sculptural masterpiece of Asian art.
The height of the warriors varies between 184-197cm (6ft-6ft 5in) according to rank, with Generals being the tallest. At this height, these model soldiers are a full foot taller than the average Chinese person of the period.
The Terracotta Army was specially commissioned by the Emperor shortly after he took over in 247 BCE. Work started on the mausoleum in about 246 BCE and is reckoned to have taken 38 years to complete, using 700,000 workers. The function of the interred army was to help the Emperor rule in the afterlife.
For earlier works, see: Neolithic Art in China (7500-2000 BCE) and the bronzes associated with Shang Dynasty Art (c.1600-1000 BCE) and Zhou Dynasty Art (1050-221 BCE).
Each of the 8,000 terracotta warriors is unique, with a different face and facial expression, and they vary in uniform and hairstyle in accordance with rank. Archeologists believe that they were manufactured in workshops by government labourers and local craftsmen. After completion, the figures were positioned in the tomb along with real weapons and body armour (subsequently stolen) in precise military formation.