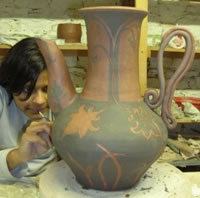 Taking Shape.
GIFT VOUCHERS
A gift voucher for a course at
Kinsale Pottery and Art School
makes an ideal gift. As little as
€225 buys a full weekend course,
while €30 can secure one of the
many individual classes. Email
Adrian with your requirements,
and pay online with Paypal, or
telephone with your credit card
details. Vouchers can be posted
or emailed to you.
MORE ABOUT CERAMICS
For details of potters and pottery
art from ancient Greece, see:
Greek Pottery.
For information about ceramics
from China, see:
Chinese Pottery.
Location
Kinsale Pottery is located a mere 20 minutes from Cork Airport, near the centre of the beautiful harbour of Kinsale. The school occupies converted stables in the home farm for Ballinacurra House, and the gallery is situated in the eaves of its coach house, which dates back to 1795. The gallery is open to visitors, and ceramics and paintings are available for sale all year round.
Courses To Suit Everyone
There's a course to suit almost everyone, from absolute beginners to fine art graduates, adults and children - even companies! There are weekly morning and evening classes, weekend breaks, summer schools and tailor-made workshops for corporate groups and private parties. Up to 30 people can be accomodated in one class (up to 50 in a group), or as few as two or three.
Outstanding Teachers
In addition to Adrian Wistreich, the school has a number of excellent teachers who are not only skilled communicators, but also practising artists. They include Robert Lee, a ceramicist from Ballydehob with more than 10 years training in throwing, from the Crawford College of Art and Tomastown; Michael Ray, a glass fusing expert from Castlefreke; Una O'Sullivan, a Mallow-based stained glass artist; Odette Norman, a mosaics expert; UK-based Ciara Healy, who teaches book binding; Flickie Howe, jeweller and fashion designer from Howe Strand West Cork; Jane Lee, a film animator from Cork; Julia Pallone, a Kinsale-based scuptor and installation artist; Michale Prior, a West Cork photographer; and Afric Hamilton, a Kinsale-based journalist and writer.