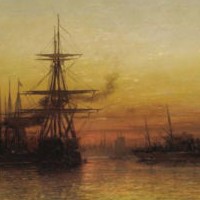 Sunset At Greenwich.
By Francis Danby
One of the great Irish Artists of the
19th Century.
Francis Danby (1793-1861)
One of the greatest Irish landscape artists, noted for his romantic, naturalistic and imaginary scenes, Francis Danby led a precarious life, marred by unhappiness and scandal.
Born in Killinick, County Wexford, he moved with his family to Dublin during the 1798 Wexford Rising. After being left penniless by the death of his father in 1807, he went on to study at the Royal Dublin Society art schools, specializing in landscape painting. At the age of 20, he visited the Royal Academy Exhibition in London with his artist friends George Petrie (1790-1866) and James Arthur O'Connor (1792-1841), and was much impressed with 'Frosty Morning' by JM Turner. Danby then travelled to Bristol, met and married a girl whom he married, and found he could make a relatively easy living selling inexpensive watercolour drawings of local scenes - like, 'View of Hotwells, the Avon Gorge' (c. 1818) - and picturesque works such as 'Boy Sailing a Little Boat' (c. 1822).
While establishing himself as the leading light of the Bristol school of landscape painters, he also worked intensively on his more serious oil paintings such as 'The Upas Poison-tree in the Island of Java' (c.1820), 'Disappointed Love' (c.1821) and 'The Delivery of the Israelites' (1825), which he exhibited in London to some acclaim and which led to his election as an Associate Member of the Royal Academy. It was during the early and mid-1820s that Danby turned from naturalistic landscapes to more narrative-based works in the style of Turner's masterpiece 'Hannibal Crossing the Alps' (1812). It was also a period when his artistic career was derailed by his private life. In 1824 he moved to London to escape his creditors, but settled in the capital for less than 5 years. In 1829 came a double-blow: his wife left him and he failed to secure full membership of the Royal Academy by a single vote. As a result, he left for the Continent with his mistress - the family governess - and settled temporarily in Paris, where he was joined by his children who had been abandoned by their mother.
Over the next decade, he and his family lived in poverty on the Continent - chiefly in Geneva - where he lived a Bohemian life, producing unimportant watercolour pictures and topographical landscapes. He returned to London in 1839 and the following year exhibited his gloomy work 'Deluge' (c.1837-40), which fortunately re-established his reputation with critics and artists alike. He continued painting during the 1840s and 1850s - largely romantic or poetic landscapes in the manner of Turner - with limited critical success: an exception being 'Evening Gun' (1847), which was shown at the Royal Academy in 1848 and the Paris Exposition Universelle (1855).
Considered to be one of the great Irish artists of the 18th Century, Danby spent the last 15 years of his life in Devon, and died an unhappy man, aggrieved by a life of financial insecurity and lack of acclaim. Two of his sons, James Francis Danby (1816-75) and Thomas Danby (1817-86), also became painters.