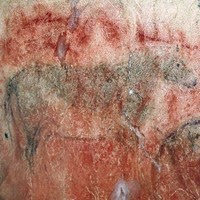 Image of pregnant mare.
Tito Bustillo Cave.
The huge limestone cave of Tito Bustillo at Ribadesella is an important centre of Franco-Cantabrian cave art, situated on Spain's northern coastline. Its cave art ranks alongside that of El Castillo Cave (from 39,000 BCE), Altamira (from 35,000 BCE) and the Cave of La Pasiega (16,000 BCE) as important evidence of Paleolithic culture on the Iberian peninsula. Other major examples of Stone Age art in Iberia include the Coa Valley engravings (22,000 BCE) across the border in Portugal, the giant fish picture at La Pileta Cave (18,000 BCE), and the Neanderthal engraving at Gorham's Cave (37,000 BCE) on the southeast face of the Rock of Gibraltar. As at the neighbouring cave of El Pindal, scientists disagree about the dates of Tito Bustillo's rock art. Some attribute it to the relatively short era of Magdalenian art (c.14,000 BCE), while others believe it was created over a longer period, beginning during the preceding era of Solutrean art (c.17,000 BCE) or even as far back as the era of Aurignacian art (c.30,000 BCE). It is worth noting that the art in other Spanish caves - notably the Altamira Cave paintings - was also created over a much longer period than originally thought (a fact discovered only after British scientists tested cave samples at Altamira using the Uranium/Thorium dating method), so perhaps Tito Bustillo Cave is older than we think. In July 2008, Tito Bustillo Cave was designated a World Heritage Site by UNESCO, along with four sites in the Asturias and nine sites in Cantabria and the Basque Country. To see how Tito Bustillo fits into the overall chronology of Paleolithic culture, see: Prehistoric Art Timeline (from 2.5 million BCE).
The cave of Tito Bustillo is located close to the Cantabrian coast, just south of the western end of the River Sella bridge, within the municipality of Ribadesella in the Principality of Asturias, Spain. It is one of five sites of parietal art in the Comarca de Oriente of the region, the others being Pindal Cave in Ribadedeva, Candamo Cave in Candamu, Cave of La Covaciella in Cabrales, and Llonin Cave in Penamellera Alta. Located about 200 metres from the Tito Bustillo Cave is the highly informative Centro de Arte Rupestre, which has numerous displays, video and replicas of the cave art.
The cave was discovered in April 1968 by a group of young speleologists from the Torreblanca Speleological Society, and named after their leader Celestino Fernandez Bustillo who died in a mountaineering accident a short while later. Since then, scientific investigations of the cave and its rock art have been conducted by Alfonso Moure Romanillo, Jose Javier Alcolea and Rodrigo de Balbin Behrmann. Today, the cave is entered via a newly created artificial tunnel, as the original entrance remains blocked by a rockfall which sealed the cave at least 8,000 years ago. Archeological excavations at the original entrance have yielded copious remains of human occupation dating back to 14,000 BCE, including stone tools, small items of mobiliary art and other artifacts.
For the world's most ancient rock paintings and engravings,
see: Oldest Stone Age Art: Top 100 Works.
Cave painting and rock engravings appear throughout the Tito Bustillo cave, which is marked by magnificent stalagmites and stalactites. There are black paintings and red paintings, as well as compositions with combinations of red, black and violet. (For more about colour pigments used by Stone Age painters, please see: Prehistoric Colour Palette.) Some of the engravings are combined with paint, while some have striated lines and others fine incised markings.
Artistic themes vary according to location. The western half of the cave is decorated with does and stags, reindeer and horses, bison, ibex and aurochs, while in the eastern part, stags and does predominate. In addition, some nine phases of decoration have been detected, which accounts for the numerous superimpositions, in the last of which a number of huge bichrome figures were created in violet and black (a rare combination in cave art). These striking images of horses and reindeer (similar to those at Las Monedas at Monte Castillo) are also engraved and scraped.
The best-known decorated areas at Tito Bustillo include the Gallery of Horses ("Galeria de los Caballos"), with its magnificent engraved paintings carefully adapted to the natural contours of the rock surface; the Chamber of Vulvas ("Camarin de las Vulvas"), with its red-painted depictions of the female gender; the so-called Anthropomorph Gallery, with two human figures represented on a single stalactite; and the cavern of la Lloseta, with its collection of male phallic representations - believed to be the first example of male sex organs depicted in rock art.
For more examples of Franco-Cantabrian cave art, see the following articles:
• Abri Castanet Engravings (c.35,000 BCE)
Aurignacian rock shelter in the Dordogne, noted for engraved female genitalia.
• Chauvet Cave Paintings (c.30,000 BCE)
Stunning monochrome paintings and a range of abstract signs.
• Pech-Merle Cave Paintings (25,000 BCE)
Charcoal and red pictures of horses, hand stencils, Placard-type signs.
• Le Placard Cave (17,500 BCE)
Charente site famous for its "Placard type" aviform signs.
• Roc-de-Sers Cave (17,200 BCE)
Another Charente site, the benchmark for Solutrean engravings and reliefs.
• Lascaux Cave Paintings (from 17,000 BCE)
Glorious multi-coloured paintings, notably in the Hall of the Bulls.
• Font de Gaume Cave Paintings (c.14,000 BCE)
An important Magdalenian sanctuary, it is second only to Lascaux.
• Rouffignac Cave Art (c.14,000-12,000 BCE)
Famous for its collection of 160 engravings and monochrome drawings of mammoths.
• Trois Freres Cave (13,000 BCE)
Renowned for its strange anthropomorphic image known as the "Sorcerer".
• Les Combarelles Cave Engravings (c.12,000 BCE)
Contains over 600 drawings of animals and human figures.