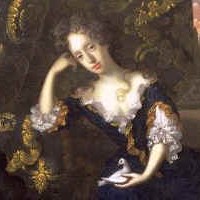 Portrait Of A Lady Known As
Lady Fortescue Of Credan, Co Waterford.
By Garret Morphy One of the great
Irish Artists of the 17th/18th Century.
Garret Morphy (c.1655-1715)
The Dublin artist Garret Morphy dominated portraiture in Ireland in the late seventeenth and early eighteenth centuries. Walter Strickland states he was known from his portrait of Archbishop Oliver Plunkett (executed in Tyburn, London, in 1681) which was reproduced in mezzotint. There is no documentary proof concerning Morphy's origins in Ireland, nor about his early training as a painter, although the style of some of his early pictures (eg. Portrait of Lady Jane Chichester c.1675) suggest that he studied under the Flemish portrait artist Gaspar Smitz who was an active painter of the Irish aristocracy in the 1660s and 1670s. The first mention of Morphy is as an 18-year-old assistant to the artist Edmund Ashfield, in London. Thereafter, he moved back and forth between London and Dublin, eventually settling in the Irish capital during the mid-1690s.
He was a Catholic, and thus had an entree into the ranks of longstanding Catholic families (the Whites of Leixlip, the Nettervilles and the Bellews) whose status pre-dated the plantation settlements, but in addition he acquired significant custom from among the colonial hierarchy and army officers in Dublin. Now seen as one of the great Irish artists of the 18th Century, Morphy's importance as a painter lies not only in his painterly skills - which undoubtedly elevated Irish portrait art to a new and professional level - but also in the social record of his works which portrayed the few remaining Catholic families of any influence in Ireland: a group who disappeared from view after the Battle of the Boyne (1690). A prolific artist and a fast painter, his compositional arrangements and backgrounds were often French-inspired, as were many of his dresses and hairstyles. Long shapely fingers are another Morphy trademark.
Most Expensive Painting By Garret Morphy
The auction record for a work by Garret Morphy was set in 2000, when his portrait painting, entitled Portrait of a Lady, was sold at Sotheby's, in London, for £32,700.