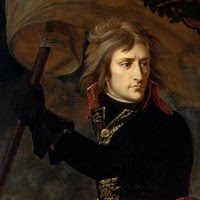 Bonaparte on the Bridge at Arcole
(1796) Louvre, Paris. A masterpiece
of neoclassical French painting by
Antoine-Jean Gros.
BEST PORTRAITS
For the Top 50 Portraits, see:
Greatest Portrait Paintings.
Neoclassicism
By comparison, the more academic Neoclassical style of portraiture displayed more gravitas and a keener sense of history.
One of the early pioneers of neoclassicist portraiture was the 'German Raphael' Mengs (1728-79). Other Old Masters of this school included: Jacques-Louis David (The Death of Marat, 1793, and Napoleon Crossing the Alps, 1801); and Jean Auguste Dominique Ingres (Portrait of Napoleon on the Imperial Throne, 1806, and the Grand Odalisque, 1814).
Ingres also borrowed from Rococo - witness his attention to the luscious drapes in his Grand Odalisque (1814), and the costume in his Portrait of Baroness Betty de Rothschild (1848). The Neoclassicism of Spanish artist Francisco de Goya was different. Instead of drawing on allegorical or historical narrative, Goya used drama and realism to create an impact. Examples of his classical portraits include: Wellington (1816). See also: Neoclassical Artists.
In America, two famous painters who specialized in figure painting and portraits were the Realist John Singleton Copley (1738-1815) - the most distinguished of the Boston and New England portraitists, known for works like Mr and Mrs Ralph Izard (Alice Delancey) (1775) - and Gilbert Stuart (1755-1828), a virtuoso painter in the 'grand manner', known for his portraits of the first five US presidents, including: George Washington (1796).