Portrait of Mrs. Collman (1865)
National Portrait Gallery, London.
By Alfred Stevens. See also:
English Figurative Painting.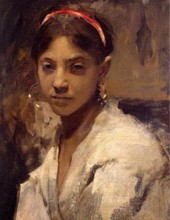 Head of a Capri Girl (1878)
Private Collection. By the American
Impressionist John Singer Sargent.
PORTRAIT PAINTERS
For Expressionist portraiture,
see: Expressionist portraits.
See also: Portraits by Picasso,
and 20th Century portrait artists.
Art During The Nineteenth Century
Fine art painting during the nineteenth century was influenced by several factors. First, the Industrial Revolution began to create a class of wealthy businessmen, a number of whom became art collectors or contributed to the endowment of art museums and galleries. This in turn allowed more artists to take up painting full-time, and led to the establishment of numerous art groups and artist colonies (eg. Pont-Aven). It also led to the emergence of fashionable styles of art, the most famous of which was Impressionism - a style marked by loose brushwork and non-natural colours. Second, the arrival of photography during the 1830s - while initially helpful to artists - signalled the death-knell of portrait art, which duly became far less popular by 1900. Fortunately, the worldwide proliferation during the 19th century of mass circulation newspapers and inexpensive books stimulated demand for illustration and other forms of graphic art, although even this was unable to halt the decline of the professional portrait painter. The era of the great Society portraitist - like John Singer Sargent - was drawing to a close. By the end of World War I (1918), it would be over. Nonetheless, for the 19th century at least, portraiture was still one of the few ways for a professional artist to earn a living. NOTE: For an explanation of 19th century portraits, please see: Analysis of Modern Paintings (1800-2000).
Portrait art in the nineteenth century encompassed several different styles, each reflecting part of the cultural jigsaw of the period.
The style of Romanticism attracted artists who wanted to liberate art from old fashioned values; the Academic style of art was embraced by those who favoured the cultural status quo - in England, this included followers of Joshua Reynolds (1723-92). Meantime, on the Continent, Romanticism quickly gave way to Realism, a style which reflected the new Industrial Revolution and its effects on rural communities. Later in the century, Romanticism and Realism (in effect) combined to create French Impressionism. Although the aesthetics of this new style of painting were best expressed in landscape painting, a number of Impressionist painters produced some outstanding portraits. From about 1885 onwards, the Romantic impulse found expression in the Symbolism movement, which endured until the outbreak of war, in 1914. Romanticism was but one of the new forms of Post-Impressionism that flourished in the final two decades of the century.