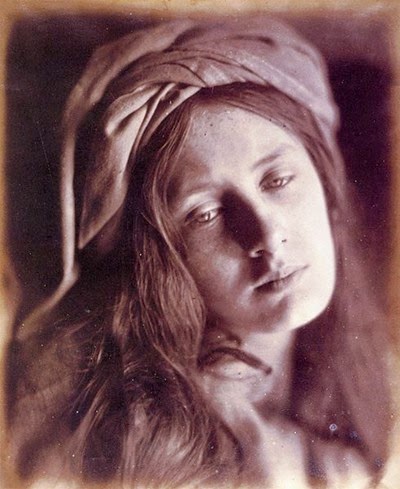 May Prinsep, as "Beatrice Cenci" (1866) in a series of
Pre-Raphaelite portraits illustrating the tragic Cenci story
from Renaissance Italy. Photographed by Julia Margaret Cameron.
Born Julia Margaret Pattle in Calcutta, India, into a British Colonial family, Cameron was educated in France. After this she returned to India, and at the age of 23 married Charles Hay Cameron, a British lawyer in his 40s who was stationed in Calcutta. Ten years later, in 1848, Charles Hay Cameron retired, and the family moved to London, England. Cameron's sister, Sarah Prinsep, had a house in Kensington, and was visited regularly by famous painters and writers of the day. In 1860, the Cameron family bought a house at Freshwater on the Isle of Wight, close to the estate of poet Alfred Lord Tennyson.
In December 1863, Julia Margaret Cameron was given a camera by her daughter Julia, as a means of amusement while staying Freshwater when her husband was in Ceylon (present-day Sri Lanka), visiting the family's coffee plantations. It was an apt gift, since at this point, Cameron was a 48 year old, devout, well read, mother of six children, whose sons were grown up or away at boarding school, and whose daughter, Julia, had married and moved away.
Cameron took to photography in an instant. It became her link to her wide circle of friends, including the scientists and artists who served as her intellectual correspondents. This, despite her complete ignorance of cameras and the art of photography. Indeed, she was tireless in her efforts to understand and master the steps needed to produce negatives with wet collodion on glass plates. And if she began as an amateur, with no thought of earning a living from her new 'hobby', she immediately adopted a wholly professional approach, copyrighting, exhibiting, and marketing her prints. Within 18 months she had turned a chicken coop into a studio, a coal house into a darkroom, sold 80 photographs to the Victoria and Albert Museum, set up a second studio in two of the museum's rooms, and arranged for a London firm to publish and sell her prints. At the same time she took advice whenever she needed it, learning for example the technique of 'soft focus' from the British painter and photographer David Wilkie Wynfield (1837-87), a distant relative of the famous genre-painter David Wilkie (1785-1841).
Even so, Cameron had no interest in establishing a commercial portrait practice. Instead - with the help of friends, family, and household staff - she used her photography as a means of illustrating a variety of historical, artistic and literary themes (see, for instance, her illustrations for Tennyson's Idylls of the King). A house maid might be transformed into the Madonna, her husband into Merlin, a neighbour's young child into Cupid or an angel from the famous Sistine Madonna (1513-14) by Raphael (1483-1520). Early Renaissance art was a source for much of her work (see, for instance, her Annunciation in the style of Perugino) most of which was wholly original for any photographer. In addition, as stated above, she took portrait photographs of a wide variety of Victorian celebrities - typically done in soft focus and cropped closely around the head - many of whom were her friends.
Her photographs, however, did not meet with universal approval: the photographic establishment found fault with her supposedly poor technique, as did several publications. In 1865, for example, the Photographic Journal published a highly critical review of her submission to the annual exhibition of the Photographic Society of Scotland. By contrast, her work was greatly admired by her artist friends - a view shared by modern-day art critics, who applaud her preference for beauty before technical perfection. In hindsight, it is obvious that Cameron had an extraordinary talent for endowing her prints with spiritual depth, a quality noticeably absent in many commercial portraits of the day.
In 1875, Julia Cameron and her husband returned to their plantations in Ceylon, taking with them her photographic equipment and a cow, as well as two coffins in case such items should be unobtainable locally. She continued to take photographs (none of which have survived), although she was greatly hampered by shortages of materials and lack of suitable sitters. She died in Ceylon four years later at the age of 63.
Photographs by Julia Margaret Cameron are in the collections of several of the best art museums in Europe and America. The most recent exhibition of her photographs were held in 2013, at the Metropolitan Museum of Art in New York.
For other renowned camera artists best-known for their portraits, please see the following forthcoming articles.
• Man Ray (1890-1976)
• Dorothea Lange (1895-1965)
• Walker Evans (1903-75)
• Cecil Beaton (1904-1980)
• Yousuf Karsh (1908-2002)
• Norman Parkinson (1913-90)
• Hans Namuth (1915-90)
• Richard Avedon (1923-2004)
• Annie Leibovitz (b.1949)