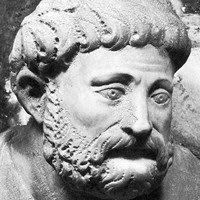 Marble Presepio (1288-1292)
(Santa Maria Maggiore, Rome)
BEST SCULPTORS
For the world's top 3-D artists, see:
Greatest Sculptors.
SCULPTING MEDIA
For different types of carving,
and modelling, see:
Stone Sculpture
Igneous, sedimentary, rocks.
Marble Sculpture
Pentelic, Carrara, Parian marbles.
Bronze Sculpture
Lost-wax casting method.
Arnolfo di Cambio (1240–1300/10)
Italian medieval sculptor and architect, Arnolfo di Cambio designed several monuments which became the model for Gothic funerary art. He became one of the foremost architects of his era, designing some of the most beautiful buildings of Florence which still exist today, including Florence Cathedral (construction began 1296). Di Cambio's architectural style embodies the transition from late Gothic art to the more classical Renaissance style. His most famous works of Gothic sculpture include his monument to Cardinal de Braye, and a bronze statue of St Peter at St Peters Basilica (1300).
Early Life
Born in Colle Val d'Elsa, Tuscany, little is known of di Cambio's life except that he learned the art of sculpture from the famous sculptor Nicola Pisano. He was in fact chief assistant to Pisano on the famous Siena Cathedral pulpit (1265–68), and worked alongside Nicola's son Giovanni Pisano.
Trained in Romanesque sculpture, Nicola Pisano was a classicist by nature but moved towards a Gothic style, a style which both his son, Giovanni and di Cambio would develop further in their own way. Di Cambio also studied painting under Cimabue (whose other student, Giotto, would go on to become one of the greatest artists of the Italian Renaissance).