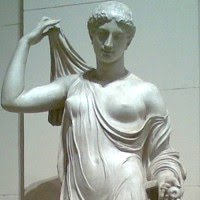 Venus with Apple (c.418 BCE)
(Pushkin Museum of Fine Arts)
A typical example of 5th century
High Classical sculpture.
BEST GREEK SCULPTURE
For analysis of a major work,
see: Venus de Milo (c.130-100 BCE).
Callimachus (Active 432-408 BCE)
The ancient Greek architect and sculptor Callimachus was active during the High Classical Period of Greek sculpture. According to a later account of Pausanias, although Callimachus was not one of the greatest sculptors of his era like Polykleitos (5th century BCE), Myron (480-444) or Phidias (488-431), he was considered to be an exceptionally clever and innovative artist. It is also said that he was nicknamed "catatexitechnus" - often simply translated as "the perfectionist" although a better rendering is " one who spoils his art by over-elaboration".
Biography
Little is known of Callimachus' origins, early life or how he learned the art of sculpture. He is recorded as an architect and sculptor in the late 5th-century BCE, according to the tradition set by Polykleitos. Sculptures from both Corinth and Athens are attributed to him, making it likely that he was born in one of these cities.