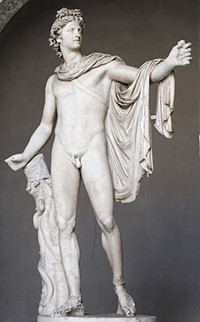 Apollo Belvedere (350-325 BCE)
Vatican Museums.
Copy (140 CE) of a lost bronze made
by the Greek sculptor Leochares.
One of the most famous examples
of sculpture from ancient Greece.
For more about the plastic arts,
see: Art of Sculpture.
Leochares (4th Century BCE)
One of the leading figures in Athenian Hellenistic Greek sculpture of the 4th century BCE. Leochares' main claim to fame was that he worked on the Mausoleum of Halicarnassus with Skopas - one of the greatest sculptors of Classical Antiquity. The Mausoleum was one of the Seven Wonders of the Ancient World. Other 4th century contemporaries of Leochares included, Lysippos (395-305 BCE) and Praxiteles (active 375-335 BCE). The famous sculpture of Apollo Belvedere (Roman copy, Vatican Museum) is attributed to Leochares.
Biography
Born in Athens, around 360 BCE, Leochares is mentioned in several ancient sources but remains an elusive figure. It is believed he worked with Skopas, along with two other sculptors, on the friezes at the Mausoleum of Halicarnassus, but it is not possible to verify that any remaining portions stored at the British Museum in London belong to him.
In about 338 BCE, King Philip II of Macedonia commissioned him to produce sculptures of the royal family. They included statues of Philip II and his son Alexander (the Great), Amyntas III (father of Philip II), Olympias (wife of Philip II), and Eurydice II (daughter of Amyntas III). The statues were made of ivory and gold, and were placed in the Philippeion, a circular building in the Altis at Olympia, erected by Philip II of Macedon in celebration of his victory at Battle of Chaeronea.