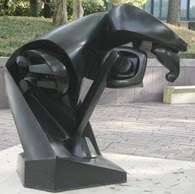 The Large Horse (1914-18)
Museum of Fine Arts, Houston.
Original plaster cast now in
Philadelphia Museum of Art.
One of the first modern artists to apply the theory of Cubism to sculpture, notably in his abstract masterpiece The Large Horse (1914-18, original in Philadelphia Museum of Art), Raymond Duchamp-Villon might have become one of the greatest sculptors of the early 20th century if his life had not been cut short by typhoid at the age of 41. A master of the figurative statue and portrait bust, as well as abstract works, he was particularly interested in capturing the body in motion, and The Large Horse perfectly suggests the muscular tensions and tautness exhibited by a leaping horse. Indeed in its focus on motion, this work was not unlike pieces by Umberto Boccioni (1882-1916) - the leading sculptor of the Futurism movement and creator of Unique Forms of Continuity in Space (1913, Museum of Contemporary Art, Sao Paulo). Raymond Duchamp-Villon was the brother of Marcel Duchamp (1887-1968), inventor of "readymades" and other experimental art forms.
Born Pierre-Maurice-Raymond Duchamp in Damville, in the Haute-Normandie region of France. In addition to Marcel, his other siblings included the painter and printmaker Jacques Villon (1875–1963), and the painter Suzanne Duchamp-Crotti (1889–1963).
From 1894 to 1898 Duchamp-Villon was a medical student at the Sorbonne University in Paris, but in 1898 Rheumatic fever forced him to abandon his studies, after which he decided to develop his interest in plastic art. Largely self-taught, and influenced initially by the great Auguste Rodin (1840-1917), he began by sculpting small statuettes in a variety of styles, many of which represented the "moving body". He soon achieved a high level of skill in both stone sculpture and bronze sculpture, as well as wood-carving. In 1902 and again in 1903, he showed his work at the Salon de la Societe Nationale des Beaux-Arts, taking care to distinguish himself from his younger brother Marcel Duchamp, by using the name "Duchamp-Villon" for all his carvings and casts. In 1905 he had a joint art exhibition at the Galerie Legrip in Rouen with his brother Jacques, and later exhibited for the first time at the Salon d'Automne in Paris. Such was Duchamp-Villon's meteoric rise that he was appointed to the jury of the sculpture section of the Salon d'Automne (1907).
Member of Puteaux Group and Section d'Or
Duchamp-Villon's mature phase began in the late 1900s, as he became more and more interested in the simplified forms permissable in the creation of abstract art. In 1907 all three Duchamp brothers moved to the Parisian suburb of Puteaux, where they became regular members of the Puteaux Group of artists. This was a loose association of abstract sculptors and painters whose other members included: Alexander Archipenko (1887-1964), Albert Gleizes (1881-1953), Juan Gris (1887-1927), and Frank Kupka (1871-1957). The Puteaux artists held an important group show at the Salon d'Automne in 1912. Duchamp-Villon's journey towards concrete art is exemplified in the portrait heads entitled Baudelaire (1911) and Maggy (1911), all of which consist of simple geometric shapes.
Most of the Puteaux group also belonged to Section d'Or, a loose grouping of Cubist painters - including Robert Delaunay (1885-1941), Francis Picabia (1879-1953), Andre Lhote (1885-1962), Jean Metzinger (1883-1956) and Fernand Leger (1881-1955) - interested in non-objective art, and in October 1912 a Section d'Or exhibition was staged at the Galerie la Boetie. Although the members of both associations were united by a common interest in Cubism, they thought that the austere style of Analytical Cubism - as developed by Picasso (1881-1973) and Braque (1882-1963) - was too drab and lacked colour. This view, championed by Puteaux, Section d'Or and other artists eventually led to the emergence of the more colourful Orphism and Synthetic Cubism.
The following year, works by Raymond and by his brother Marcel were shown at the famous Armory Show in New York - the first show to introduce European modern art to an American audience. Curiously, at this time, both brothers were interested in capturing the movement of the body: Raymond through a number of sculptures including The Large Horse; Marcel through his oil painting Nude Descending Staircase No 2 (1912, Philadelphia Museum of Art).
Duchamp-Villon continued to exhibit his sculpture as widely as possible. In 1913 he had exhibitions at Galerie S.V.U. Manes in Prague, and at the Galerie Andre Groult in Paris. In 1914 he showed at the influential Sturm Gallery in Berlin, owned by Herwarth Walden (1879-1941).
In fact 1914 saw the start of his bronze masterpiece The Large Horse, which he worked on for the next four years. Displaying features borrowed from the Russian sculptor Archipenko, The Large Horse consists of a concentrated whirl of curves, spirals, arches, hollows and straight lines: a fusion of pistons and organs, mechanical and animal energy. In addition, he produced his sublime gilded bronze statue entitled Seated Female Figure (1914, Cologne Museum).
Sculptures by Raymond Duchamp-Villon can be seen in some of the best art museums and sculpture gardens around the world.
NOTE: For other Cubist sculptors, please see: Henri Laurens (1885-1954), Vladimir Baranoff-Rossine (1888-1942), Ossip Zadkine (1890-1967), Naum Gabo (1890-1977), and Jacques Lipchitz (1891-1973).