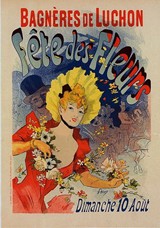 Cheret's Lithographic Poster for
a Flower Festival (1890).
PRINT ART
For the basic types and history
of fine art printmaking, see:
Woodcuts (1400-present)
Engraving (c.1430-present)
Etching (1513-present)
Screenprinting (c.1900-present)
Giclee Prints (1980s -present)
MODERN ARTISTS
For painters like Jules Cheret,
see: Modern Artists.
WORLDS TOP ARTISTS
See: Best Artists of All Time.
WORLD'S BEST ART
See: Greatest Modern Paintings.
WHAT IS ART?
See: Art Definition, Meaning.
Early Life
Born in Paris into a poor typographer's family, Jules Cheret's earliest art training was a three-year apprenticeship with a lithographer, followed by an evening course of drawing lessons at the Ecole Nationale de Dessin, under the French artist Horace Lecoq de Boisbaudran. In addition, like most students, Cheret would have absorbed some of the works of famous painters in the Louvre and other museums. Thus by the age of 18, Cheret was able to scrape a basic living selling designs and drawings to music publishers and other customers, but he wanted more.
Early Work
In 1854 he travelled to London, where the techniques of lithography and chromolithography were more advanced, but succeeded only in gaining a lowly paid job as a sketcher for The Maple Furniture Company. Returning to Paris in 1858 he received his first slice of luck in the form of a commission for a poster advertising Jacques Offenbach's operetta Orpheus in the Underworld. Disappointed when this failed to trigger more commissions, Cheret went back to London where he spent the next seven years developing his skills in lithography, and absorbing the British approach to poster design and printing, in the process. He designed posters for music halls, cabarets, theatres and circuses, as well as book covers and illustrations for the publisher Cramer.
Rimmel and Chromolithography
In 1866, Cheret returned once again to Paris and, thanks to a friend's introduction, was given the opportunity to design packaging for the perfume manufacturer, Eugene Rimmel. This led to Rimmel supporting the young designer in the establishment of a commercial colour lithographic shop. At this point, one should note that although the lithographic process had been invented by Alois Senefelder as far back as 1798, it had little effect on poster art until the invention of chromolithography later in the 19th century. Even then, it was a time-consuming and therefore expensive process. Cheret now revolutionized the lithographic poster by inventing a convenient process which enabled lithographers to produce a wide spectrum of colours from just three stones. Suddenly low-cost colour posters were a reality.
Cheret duly set about creating a wide variety of inventive colourful poster ads for theatre and music hall customers like the Moulin Rouge, the Folies Bergeres, the Eldorado, the Olympia, Theatre de l'Opera, and the Alcazar d'Ete. He also advertised individual performers - exemplified by his 1867 La Biche au Bois poster for Sarah Bernhardt, and various promotions for Yvette Guilbert of the Concert Parisien. Both advertisers and viewers loved Cheret's ads, and he suddenly found himself and his style of graphic design in huge demand. Other artists followed his chromolithographic method including: Theophile Steinlen (1859-1923), creator of the original poster "Cabaret Du Chat Noir"; the Czech Art Nouveau artist Alphonse Mucha (1860-1939); the great Toulouse-Lautrec (1864-1901); and the decorative artists Pierre Bonnard (1867-1947), and Edouard Vuillard (1868-1940).