Contemporary chalk drawing
By Eric Jensen.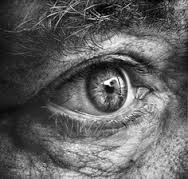 Contemporary Pen and Ink Drawing.
Introduction & Characteristics
Definition
In fine art, the term "drawing" may be defined as the linear realization of visual objects, concepts, emotions, and fantasies, including symbols and even abstract forms. Drawing is a graphic art which is characterized by an emphasis on form or shape, rather than mass and colour as in painting. Drawing is quite different from graphic printmaking processes, because although a drawing may form the basis for replication, it is by its very nature, unique.
The Basis of Other Artforms
Most drawing is dependent on other types of art. Thus, although not every painting, mosaic, tapestry or other artwork has been preceded by a drawing in the form of a preliminary sketch, drawing is in reality the basis of all visual arts. For example, an architectural drawing is the basis for all building construction; markings drawn on a raw stone block are the basis for the sculpture that emerges; initially most paintings grow out of preliminary sketches - only as the works proceed are they consolidated into coloured surfaces. Besides, a growing number of investigations, demonstrate that drawings form the material basis of mural, panel, and book paintings, statues, etchings, engravings, mosaics, stained glass, and many other forms of decorative art. Such preparatory sketches may be limited to broad guidelines or they may regulate the whole work down to the smallest details.
Drawing is Also an Independent Artform
In addition, as an independent stand-alone art form, drawing offers the widest possible scope for creative expression. Bodies, space, depth, three-dimensionality, and even movement can be made visible through drawing. Furthermore, drawing expresses the draughtsman's personality spontaneously in the flow of the line, making it one of the most personal of all artistic statements.
Drawing Media
Drawings can be produced using a wide variety of drawing instruments, including pen and ink, charcoal, chalks, pastels, metalpoint, silverpoint, graphite point, coloured crayons, as well as graver, burin or etching needle for incised types of drawing. Other alternatives are wax or conte crayons, markers, graphite sticks, and various types of inked pens. The most usual support (the material upon which the image is drawn) is obviously paper, but other options include card, board, papyrus, cardboard, canvas, leather, vellum (calfskin), textiles - even plastic or metal. Mixed-media drawings are those executed using a combination of these materials.
Drawing Versus Painting
The line between drawing and painting has always been slightly blurred. For example, Chinese art, performed with a brush on silk or paper, is as near to drawing as to fine art painting (eg. Calligraphy). Some illuminated manuscripts from the Middle Ages, such as the Utrecht Psalter, have pen-and-ink drawings of such freedom of line that they resemble modern cartoons, and effectively serve the same function as paintings. Even so, drawing as an independent art form did not emerge until the Renaissance art of the quattrocento (15th century). Until then, drawing (disegno) was seen as inferior to painting (colorito). See also: Art Evaluation: How to Appreciate Art.
Drawing Experts
The word draughtsman (or draftsman) is the usual term for an artist who practices drawing. Examples of supreme draftsmanship, especially figurative drawing, include works by Old Masters like Leonardo Da Vinci, Michelangelo, Albrecht Durer, Peter Paul Rubens, Rembrandt, Jacques Louis David, and other famous painters such as: Honore Daumier, Edgar Degas, Egon Schiele, Max Beckmann, David Hockney, and Lucian Freud, to name but a few.
Categories of Drawing
In general terms drawing encompasses 3 basic categories: Casual drawing, (doodling, sketching): this denotes unfinished and usually unrefined compositions. These drawings have no ongoing function. Preparatory drawing: this denotes the creation of a specific image or series of images, forming the whole or part of a composition which the artist intends to complete by adding pigment colour (paints, coloured inks etc). Finished drawing: this denotes a completed stand-alone autonomous work, such as an illustration, a cartoon, a caricature, or graphic design.
Subject Matter
Draughtsmen have incorporated all types of images in their compositions, including representations of humans and animals in all genres, such as narrative history images, portraits, caricatures, and genre scenes, as well as landscapes or still life compositions. Some draughtsmen specialize in precise reproductions of existing or proposed buildings (architectural drawing), ships (marine drawing), flowers (botanical illustration) or horses (equestrian drawing), or animals as well as abstract compositions from Cubist to typographical or calligraphic compositions.