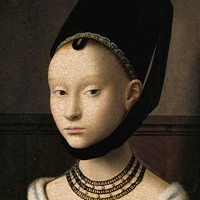 Portrait of a Young Girl (1470)
Staatliche Museen, Berlin.
By Petrus Christus (1410-75).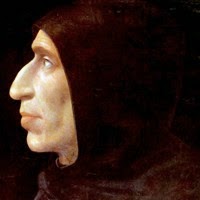 Portrait of Girolamo Savonarola
(1498) by Fra Bartolommeo.
Museo di San Marco, Florence.
One of the most famous portraits
of the Renaissance.
WORLD'S TOP PORTRAITURE
For the greatest portraitists
see: Best Portrait Artists.
Growth in Portrait Painting
The mercantile prosperity of Italian city states and certain North European ports, led directly to the artistic upsurge commonly known as the Renaissance. From this time on, in addition to Papal commissions for murals, statues and other artworks, wealthy rulers and citizens across Europe became significant patrons of the visual arts, especially portraits.
Italian Renaissance Portraits (c.1420-1520)
Its worth noting that four principles underlined Early Renaissance painting, including portraiture: an enormous reverence for Classical Greek Antiquity; a faith in the nobility of Man (Humanism); the mastery of linear perspective (depth in a painting); and an overriding respect for naturalistic figure drawing and figure painting of the human form, in line with the supremacy of disegno over colorito.
These principles are exemplified in early Renaissance masterpieces like the dreamy, contemplative sculpture David by Donatello (c.1440s); The sad-faced heroine in The Birth of Venus (c.1485) by Botticelli; the stylish group portrait of Ludovico Gonzaga - see Camera degli Sposi frescoes, by Mantegna; the sweet Old Man with a Young Boy (1490) by Domenico Ghirlandaio; the supremely graceful Lady with an Ermine (Portrait of Cecilia Gallerani) (1490), and Mona Lisa (1503-6) by Leonardo Da Vinci.
High Renaissance jewels include: Michelangelo's compelling faces in his Genesis Fresco (1508-12) and Last Judgment fresco (1536-41) on the ceiling and wall of the Sistine Chapel in Rome - possibly the greatest series of murals in the history of art; portraits by other famous artists include: Duke Federico da Montefeltro and His Spouse Battista Sforza (c.1466) by Piero della Francesca; St Sebastian (c.1495) by Perugino; Ecce Homo (1500) by Andrea Mantegna; Portrait of Doge Giovanni Mocenigo (1478) by Gentile Bellini, and Doge Leonardo Loredan (c.1500) by Giovanni Bellini; the subtle Portrait of Baldassare Castiglione (1514-15) and Pope Leo X with Cardinals (1518) by Raphael; Portrait of Pope Clement VII (1526) by Sebastiano del Piombo (1485-1547). For more information about portraiture and its exponents in Venice, see: Venetian Portrait Painting (c.1400-1600).
In Florence, Late Renaissance portraiture was exemplified by Agnolo Bronzino (1503-1572), whose icy portraits perfectly captured the arrogance of the Florentine ruling class. See, for instance, his Portrait of Lucrezia Panciatichi (1540, Uffizi Gallery, Florence).