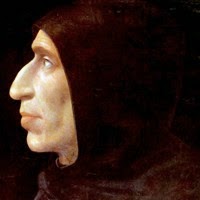 Portrait of Girolamo Savonarola
(1498) by Fra Bartolommeo.
Museo di San Marco, Florence.
The preacher was executed in
Florence's Piazza della Signoria
in May 1498.
COLOURS USED IN PAINTING
For details of the pigments
used by Fra Bartolommeo
in his colour painting,
see: Renaissance Colour Palette.
WORLDS TOP ARTISTS
For top creative practitioners, see:
Best Artists of All Time.
Ranked among the most important Old Masters of the Florentine Renaissance during the early years of the cinquecento, the Dominican Fra Bartolommeo - formerly known as Baccio della Porta - was a pupil of Cosimo Rosselli, before becoming associated with the workshop of Domenico Ghirlandaio (1449-94). Influenced by the new techniques in the High Renaissance painting of Leonardo da Vinci (1452-1519), he freed himself from the pedestrian realism practiced by his teachers, to become the leading protagonist in Florence of High Renaissance pictorial principles. More accessible than Leonardo da Vinci or Michelangelo (1475-1564), and more sensitive to local traditions than Raphael (1483-1520), he exerted a significant influence over younger Florentine painters, such as Andrea del Sarto (1486-1530), who in 1514 succeeded him as head of the Florence school.
Born in Savignano di Prato, Tuscany, about 1483 - on the recommendation of the sculptor Benedetto da Maiano (1442-97) - he became an apprentice in the workshop of Cosimo Rosselli (1439–1507). A decade later, in about 1494 he set up a joint workshop with a fellow pupil Mariotto Albertinelli (1474-1515). Bartolommeo's early works, such as the Annunciation (1497), were influenced by the harmonious compositions of the Umbrian master Perugino (1450-1523) and by the sfumato technique (smoky, gradual transition from light to shade) of Leonardo da Vinci. However, little survives of his early oil painting, which he destroyed under the influence of the Dominican preacher Girolamo Savonarola, who denounced a good deal of Renaissance art - notably secular works commissioned by the Medici Family of Florence - as decadent and corrupt. As far as Savonarola was concerned, painting should be exclusively Biblical art: it should illustrate the Bible for the benefit of those unable to read. Any other type of painting was mere profanity. Bartolommeo was greatly moved by Savonarola's teaching and painted a famous portrait of the preacher (1498, San Marco Museum, Florence). Understandably therefore, he was particularly distressed by Savonarola's execution in 1498, and in 1500 he abandoned painting to become a novice at the Dominican convent at Prato. In 1501 he took his vows, assumed the name Fra Bartolommeo and entered the convent of San Marco - renowned for its fresco paintings executed some fifty years earlier by the Dominican friar Fra Angelico (c.1400-55).
Fra Bartolommeo gave up art until 1504, when the prior of S. Marco authorized him to resume painting in the monastery workshop. Bartolommeo was to devote the rest of his life to Christian art, mostly at the service of his religious order. His first work was the impressive Vision of St. Bernard (1504-7) for the family chapel of Bernardo Bianco, in the Badia Fiorentina. His style at this time was strongly influenced by the work of Leonardo (from whom he learned subtle chiaroscuro), and Raphael (from whom he learned linear perspective). His most typical subjects included Madonna and Child with Saints and the Holy Family; his figures are noble, calm, but remote from the everyday world, clothed in timeless drapery with a complete absence of anecdotal detail common to Early Renaissance painting of the previous century. By 1508 - Leonardo, Michelangelo, and Raphael having left Florence - Fra Bartolommeo was the foremost painter in the city.
In 1508 he travelled to Venice where - under the influence of Giovanni Bellini (1430-1516) - he absorbed some of the colorito for which Venetian painting is famous. As a result his work became richer and warmer, and noticeably more atmospheric: the Mystic Marriage of St Catherine (1512, Accademia, Florence) features some of the architectural settings employed by Bellini in several of his altarpieces, as well as such details as musical angels seated beneath the Virgin. Another revealing work is God the Father with SS. Catherine of Siena and Mary Magdalene (1509).
In late 1510 Ambassador Piero Soderini (1450-1522) commissioned him to paint an altarpiece (now in the Museum of San Marco) for the Sala del Consiglio of Florence. In 1512 he completed another for the French cathedral of Besancon.
In 1513-14 Bartolommeo visited Rome, where he encountered Raphael's best work as well as Michelangelo's awesome Genesis Fresco (1508-12) on the ceiling of the Sistine Chapel. In response Bartolommeo began to adopt a more dramatic tone, as illustrated by the Madonna della Misericordia (1515) and the Pieta (c. 1515-16). Also in this style were his large scale mural paintings of St. Mark and St. Sebastian at San Marco, Florence. Despite his best attempts, however, his religious paintings remained rather restrained and severe, as he struggled to come to terms with the technical and creative virtuosity of Michelangelo's Sistine Ceiling. It was around 1514 that he was superceded as the head of the Florentine school by his former pupil Andrea del Sarto.
A very different side to his art is evident in his drawing and preparatory sketching, which are often disarmingly sensitive and spontaneous, especially his landscapes. Along with Leonardo, he was one of the first artists of the Renaissance in Florence to entertain the idea of an independent genre of landscape art. Fra Bartolommeo passed away in Florence in 1517.
Paintings and drawings by Fra Bartolommeo can be seen in some of the best art museums around the world, notably the Uffizi Gallery in Florence.
For more information about painting and sculpture in 14th and 15th century Florence, please see the following articles:
• Early Renaissance Art (Italy) (1400-1490)
• Renaissance Architecture (1400-1600)
• Florence Cathedral, Brunelleschi and the Renaissance (1426-36)
• Renaissance Sculpture (1250-1530)