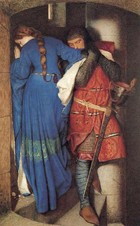 The Meeting on the Turret Stairs
(1864) (Hellelil and Hildebrand)
MORE ABOUT ART IN IRELAND
For a guide to oils/watercolours
see: Irish Painting.
For answers to popular queries,
see: Irish Art Questions.
Sir Frederick William Burton (1816-1900)
Born in Corofin, County Clare, the son of an amateur landscape painter, Burton studied drawing under the Brocas brothers at the Royal Dublin Society School, alongside Henry Brocas and Robert West. A fast developer he achieved distinction as a painter of watercolour portraits and colourful miniatures on ivory. In 1837, he showed three portraits at the Royal Hibernian Academy and shortly afterwards was elected an Associate Member. Two years later, at the age of only 23, he was elected a full Academician and continued showing at the RHA for many years, even after he moved to London. Meantime, in 1842, he began to exhibit at the Royal Academy. During his early painting career in Dublin, Burton was mainly occupied in portraiture, and painted a large number of notable individuals. In 1851, he started on the first of several prolonged trips around Europe - 7-year tour of Bavaria and other parts of Germany - which gave him with a deep and intimate knowledge of the works of the Old Masters. In addition to visiting numerous art museums, he made copious sketches, figurative and genre studies, which provided the basis for a number of drawings he exhibited in London on his annual return visits. He was elected an Associate Member of the Royal Society of Painters in Water Colours in 1855, and a full member in the following year.