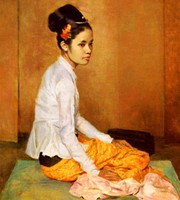 Portrait of Mah Aung Saw Myang
PORTRAIT ART IN IRELAND
For a guide to portraitists
like Gerald Festus Kelly, see:
Irish Portrait Artists.
Gerald Festus Kelly RHA, PRA (1879-1972)
The academic style portrait artist and oil painter Gerald Kelly enjoyed a long association with the Royal Hibernian Academy (RHA) being elected a full member and exhibiting for over sixty years (1905-1969).
He was born in London, educated at Cambridge University and studied drawing and painting in Paris, in the academic style of art. The painter Whistler was an early influence. Kelly himself was an avid traveller, visiting America, South Africa, Spain, and Burma, where he executed some of his most characteristic figure drawings.
Kelly gained a reputation as a technically accomplished exponent of academic portrait art, specializing in children and women. Among his many portrait subjects were Somerset Maugham, whose portrait he painted several times. In addition, Kelly completed numerous formal state portraits.