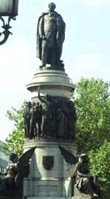 Statue of Daniel O'Connell,
in O'Connell Street, Dublin.
MORE ABOUT SCULPTURE
For more facts, see: Plastic Art.
For more about arts in Ireland
see: Irish Art Questions.
At the age of 17 he moved to London to continue his studies at the Royal Academy, where he was later to become an associate member in 1849 and a full member in 1858. His first public success came in 1840 when he exhibited his Death of Abel and Innocence and 'Ino and the Infant Bacchus', which resulted in a commission from the Earl of Ellesmere, who wanted a version executed in marble for his collection at Bridgewater House. This success was quickly followed by others, including Lear and Cordelia and Death of Lear , exhibited in 1841; Venus Rescuing Aeneas and The Houseless Wanderer , exhibited in 1842 and Prospero and Miranda in 1843.

When The Act of Union (1800) moved the center of power from Dublin to London, many Irish artists moved to London. Foley, along with his contemporaries such as John Lawlor (1820-1901) and Samuel Ferris Lynn (1834-76), worked with British sculptors to produce large scale works including the Albert Memorial in Hyde Park. Among Foley's portrait sculptures, those considered to be the most important include that of Viscount Hardinge (Calcutta,1858), Sir James Outram (Calcutta, 1864) and Lord Herbert (1864) in Waterloo Place.