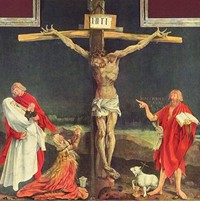 The Isenheim Altarpiece (1515)
Musee d'Unterlingen, Colmar.
Polyptych by Matthias Grunewald.
ART APPRECIATION
See our educational articles:
Famous Paintings Analyzed
Art Evaluation and also:
How to Appreciate Paintings.

In Christian art, the word "polyptych" (from the Greek for "many folds") refers to multi-part panel-paintings - usually connected by hinges to permit most or all of the panels to fold away. One of the most famous examples of this form of religious art is the 12-panel Ghent Altarpiece (c.1432) by the Flemish artist Jan van Eyck. The number of panels in a polyptych is usually three or more: a "triptych" has three panels; a "quadriptych", four sections; a "pentaptych", five; a "hexaptych", six; a "heptaptych", seven; an "octaptych", eight, and so on. Instead of being painted, a polyptych may consist of a multi-part wood carving, like the Altarpiece of Church of St Mary (1477-89) by Veit Stoss, or it may comprise both paintings and carvings (The Passion Retable, 1483; Musee National du Moyen Age, Paris).
Polyptychs made excellent altarpiece art, and were often commissioned by church authorities to inspire their congregations in much the same way that stained glass art or illusionist frescoes, known as quadratura, were used to awe and educate spectators. A polyptych serving as an altarpiece typically comprised a large central picture (a Virgin and Child, a Nativity, Resurrection or other similar biblical scene), flanked by smaller religious paintings of saints or notable figures from the bible. Below the central panel there was often a predella, whose width was ideal for depicting narrative scenes from (say) the life of a saint.
Polyptychs were popular in Italy from the 13th century - notably with the Sienese school of medieval painting, whose leader Duccio Di Buoninsegna (1255-1319) produced the 84-panel polyptych Maesta Altarpiece (1308-11) - one of the treasures of the trecento - which was carried in public procession from Duccio's workshop to the Cathedral amid great public celebration. Polyptychs were also a regular feature of Flemish painting from the late 14th century onwards, but largely disappeared in the 16th century. A wonderful example is the St Columba Altarpiece (1455, Alte Pinakothek, Munich) by Roger van der Weyden (1400-64). Artists of the Cologne School of painting produced some outstanding multi-panelled altarpieces, such as the Life of the Virgin Altarpiece (1465-75), a polyptych painted for the Church of St Ursula in Cologne - now split between the Alte Pinakothek in Munich and the National Gallery in London.
In Germany, during the extended Late Gothic era (c.1400-1550), carved wooden polyptychs were often used as altarpieces. The name of the format was the Schnitzaltar, which consisted either of a carved wooden central section flanked by painted wings (Isenheim Altarpiece, 1512-15, by Matthias Grunewald), or a wholly carved altarpiece with a large middle section and wings with four to six scenes, plus a crowning superstructure and a predella. See also: German Gothic Art (1200-1550).