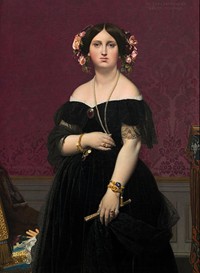 Madame Moitessier (1851)
(Standing) by J.A.D. Ingres.
National Gallery of Art,
Washington DC.
CLASSICISM
For more about the impact
of Ingres' art on 20th century
artists, please see:
Classical Revival in modern art
(1900-30).
ART EVALUATION
For analysis of pictures
by Neoclassical artists
like Ingres, see:
How to Appreciate Paintings.

Analysis of Portrait of Madame Moitessier by J.A.D. Ingres
Although he is now seen as the embodiment of 19th century academic art in France, it took Ingres more than 20 years before the French Academy embraced his particular style of neoclassical art. All his life, Ingres yearned to be revered for his history painting - the most prestigious of all the categories in the Hierarchy of the Genres - but his true forte was really figure painting (limited to compositions with a small number of figures) and portraiture, in which his treatment of surfaces, textures and the human body was outstanding. A pupil of the influential Jacques-Louis David (1748-1825) and a winner of the coveted Prix de Rome (1801), Ingres suffered a series of early disappointments with paintings like Napoleon I on his Imperial Throne (1806, Musee de l'Armee, Paris), The Valpincon Bather (1808, Louvre, Paris), Jupiter and Thetis (1811, Musee Granet, Aix-en-Provence), and La Grande Odalisque (1814, Louvre, Paris), before finally achieving the recognition he deserved with The Vow of Louis XIII (1824, Montauban Cathedral). In 1825 he was elected a full member of the French Academy, which led to a series of official commissions. Around this time, conservative critics and academicians began to see him as a counterweight to the new, unruly school of Romanticism, embodied by Eugene Delacroix (1798-1863). New works, as diverse as Oedipus and the Sphinx (1808-27, Louvre), The Apotheosis of Homer (1827, Louvre) and Portrait of Monsieur Bertin (1832, Louvre) brought him further plaudits, but later he was stung by criticism of his ambitious picture of The Martyrdom of Saint Symphorian (Cathedral of Autun), which appeared at the Salon of 1834. In response he willingly accepted an appointment as director of the Ecole de France in Rome, where he remained for six years. He returned to Paris in 1840, and over the next twenty years added to his growing status as a major figure in French painting, with several fine works, including: Stratonice and Antiochus (1840, Musee Conde, Chantilly); Odalisque with Slave (1842, Walters Art Museum, Baltimore); Portrait of Madame Moitessier (1856, National Gallery, London) and The Turkish Bath (1862-3, Louvre). He also produced a smaller, reversed version of Oedipus and the Sphinx (1864), which is now in the Walters Art Museum, Baltimore.
Madame Moitessier was among Ingres' last major portraits and ranks alongside his earlier realist painting - the monumental Portrait of Monsieur Bertin (1832, Louvre) - as one of the greatest 19th century portraits of the French school.
Marie-Clotilde-Ines Moitessier (nee de Foucauld) (1821–1897) was the wife of Sigisbert Moitessier, a wealthy banker and lace merchant, twice her age. In 1844, Ingres was invited to paint her portrait but demurred, owing to his focus on mythological painting, which remained his main priority. However, when he met Madame Moitessier in person, he was so impressed by her "Junoesque looks" (the description is Theophile Gautier's) that he accepted the commission.
He started on the preparatory sketching for the portrait in 1844 but progress was slow. This was because the picture was supposed to include the Moitessiers' young daughter, Catherine, but Ingres found her impossible to handle, and eventually (in 1847) eliminated her from the project. (She survives only in a single preparatory drawing in the Ingres Museum at Montauban.) Work was further delayed by the death of Ingres' wife (1849) and other Moitessier family concerns. In June 1851, Ingres began again, this time with a standing portrait of her (National Gallery of Art, Washington DC), which was completed six months later (see below). He then returned to the original seated portrait, which he finally finished in 1856, at the age of 76.