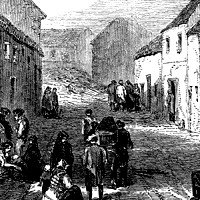 Chapel Lane, Skibbereen,
During the Famine. By James Mahoney
One of the great Irish Artists of the
19th Century.
Mahoney, James ARHA (1810-79)
One of the important Irish artists of the nineteenth century, the painter James Mahoney (also Mahony) was a noted (and widely travelled) watercolourist, illustrator and sketcher, who among other things helped to pictorialize the tragedy of the Great Famine in Ireland (1846-51). Born in Cork, the son of a joiner, Mahoney's early years are not well documented. Art historians believe that he studied drawing and painting in Rome, and went on to spend several years in Italy and France before returning to his native city at the age of 32. Achieving rapid fame for his fine watercolour painting, he exhibited a number of townscapes at the Royal Hibernian Academy (1842-6), including views of Rome, Venice, Paris and Rouen. Not long afterwards, he was hired by the Illustrated London News to visit the worst centres of famine in County Cork, and it was the engravings of Mahony's sketches from Clonakilty and Skibbereen in West Cork that helped to bring public opinion to bear on the British government to take action. Mahoney's role in this tragedy is similar to that of his fellow Corkman - the shortlived artist Daniel MacDonald (1821-53) - whose painting The Irish Peasant Family Discovering the Blight of Their Store also drew attention to the widespread starvation in Ireland during the late 1840s.