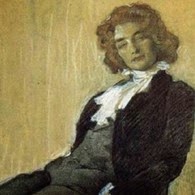 Portrait of Zinaida Gippius (1906)
WORLDS BEST PAINTERS
For top creative practitioners, see:
Best Artists of All Time.
A much underestimated figure in Russian art, Leon Bakst is best known for the decorative art which he created for Sergei Diaghilev and the Ballets Russes. Fired by his love of colour, his brightly painted sets and richly coloured costumes combined extravagant designs with refined details to convey a heady atmosphere of Slavonic orientalism. This mixture of modern art with traditional Russian folk art inspired dancers and audiences alike. He became artistic director for Diaghilev in 1909, and his stage designs rapidly brought him international fame. Among his finest creations were the designs for Tchaikovsky's ballet Sleeping Beauty (London, 1921). Bakst also excelled at graphic art, indeed his first real success came in 1898 after he co-founded the influential "World of Art" group, sponsored by Savva Mamontov (1841-1918), and took charge of the illustration of the group's "World of Art" periodical. His exceptional talent at drawing and sketching is exemplified by his pen and ink drawing of Isadora Duncan (1908, Ashmolean Museum, Oxford). Although less well-known than many of his contemporaries, Bakst remains one of the most influential of Russian artists, and was chiefly responsible for the visual impact of the Ballets Russes. He revolutionized the design of theatrical scenery and costumes, and ranks among the most influential modern artists of the early 20th century.
Born Leon Samoylovich Rosenberg, into a middle-class Jewish family in Grodno (now part of Belarus) he later (in 1889) disguised his Jewishness by adopting the pseudonym "Bakst", derived from his mother's maiden name of "Baxter". He was educated at the gymnasium in St. Petersburg, and afterwards trained at the Imperial Academy of Fine Arts (1883-1886). He began his professional life in illustration, before moving on to portrait art and private teaching; one of his pupils was the Jewish painter Marc Chagall (1887-1985). During the early 1890s he exhibited his watercolour painting with the Russian Society of Watercolourists. From 1893–97 he lived mostly in Paris, where he studied at the Academie Julian, under Jean-Leon Gerome (1824-1904) as well as the Finish landscape painter Albert Edelfelt (1854-1905). During his return visits to St Petersburg he joined a circle of writers and artists formed by Alexandre Benois (1870-1960) and Sergei Diaghilev (1872-1929), which later became the Mir Iskusstva movement. He also exhibited his works whenever possible. He showed at the Munich Secession exhibitions, in shows organized by Mir Iskusstva, and in the Diaghilev-organized First exhibition of Russian and Finnish Artists in 1898. During the 1890s he also travelled widely, visiting Spain, Germany, Tunisia, Algeria and Greece.
"World of Art", Theatrical Sets and Portraits
In 1898, together with Benois and Diagilev, Bakst co-founded the influential World of Art (Mir Iskusstva) group, and until 1904 was chiefly responsible for the superb illustrations and graphics of its influential magazine. In 1901 he designed his first theatrical set for Diaghilev's production of Leo Delibes's ballet, Sylvia. Although this production failed to get off the ground, it set Bakst on the road to creating sets and costumes for a number of theatres in St Petersburg. For example, in 1902-3 he produced designs for several stage productions at the Hermitage and Alexandrinsky theatres in St. Petersburg, and in 1903-4 he completed several sets for the Maryinsky theatre. Meanwhile, in 1902, he painted his most famous history painting when Tsar Nicholas II commissioned him to paint "Carnival in Paris" in Honour of Admiral Avellan and the Russian Navy. He also produced a number of portrait paintings, including those of the philosopher Vasily Rozanov (1902), the poet Andrei Bely (1905), and the poetess Zinaida Gippius (1906). Bakst also created graphics for publications like Apollon and Zolotoe Runo.
As an artist, Bakst preferred a realist style as used by Old Masters such as Rembrandt and Velazquez. In his portraits he was also influenced by his close friend Valentin Serov (1865-1911). In his stage sets, due partly to the influence of Benois, he experimented with orientalism, using motifs from Egyptian art and the Middle East. He was also drawn to the Symbolism movement, and to the fashionable Art Nouveau idiom of sinuous lines, which perfectly suited the bright colours, and flowing drapes of his theatrical designwork.
Towards the end of the 1900s, Bakst began to focus exclusively on theatrical art. From 1909 onwards he collaborated with Diaghilev and the Russian artist Alexander Benois (1870-1960) in the founding of the Ballets Russes, and took charge of all designs for the first Saison Russe in Paris. He stayed with the Ballets Russes until 1919, and designed more Diagilev productions than any other artist. Among his productions were Cleopatra (1909), Scheherazade (1910), Carnaval (1910), Le Spectre de la Rose (1911), Narcisse (1911), L'après-midi d'un faune (1912) and Daphnis et Chloe (1912). His sets and costumes for Fokine and Nijinsky's ballets caused a sensation, notably the exotic oriental fantasy Scheherazade (1910); while his designs for Greek ballets such as Daphnis and Chloe (1912) were equally influential, due to their use of hot tones and geometric designs. At the same time, he worked as a freelance costume designer for private clients, like Vera Komissarzhervskaya and Ida Rubinstein. In 1912 he settled in Paris, having being exiled from St. Petersburg where, as a Jew, he was barred from obtaining a residence permit. Two years later, in 1914, in recognition of his work, Bakst was elected a member of the Imperial Academy of Arts in St Petersburg!
After 1919, he returned to the Ballets Russes occasionally, creating designs for productions such as Sleeping Beauty (1921). However, in 1922, he left Diaghilev and the Ballets Russes for good. In the same year he travelled to Baltimore in the United States to see his friend and patron, Alice Warder Garrett (1877–1952). While in Baltimore, he did some interior designs for Garrett, including the design of a Modernist private theatre. Shortly afterwards he returned to France but - despite continuing successes - his creative spark was beginning to fade. He died of lung cancer on the 27th of December 1924, at the height of his fame, and was interred in the Batignoles cemetery, in Paris.
Works by Bakst, including costumes and prints, can be seen in several of the world's best art museums, including the Hermitage St Petersburg; the Pushkin Museum of Fine Arts, Moscow; and the Victoria and Albert Museum, London.
For more about 19th and 20th century Russian arts and crafts, please see these articles:
- Russian Painting of the 19th Century (1800-1900)
- Faberge Easter Eggs (c.1860-1917)
- Donkey's Tail Exhibition (1911-12)
- Knave of Diamonds Artist Group (1910-17)