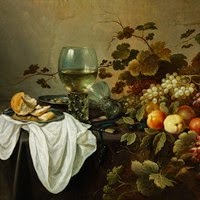 Still Life with Roemer, Crab and a
Peeled Lemon (1643)
By Pieter Claesz.
Art Gallery of South Australia.
WORLDS TOP PAINTERS
For top creative practitioners, see:
Best Artists of All Time.
A master of still life painting during the Golden Age of Dutch Baroque art, Claesz along with his contemporary Willem Claesz Heda (1594-1680) were the foremost exponents of "breakfast pieces" (ontbijtjes), a type of Protestant Reformation Art, that highlights the transience of earthly life in comparison to permanent Christian values. This genre of Vanitas painting was a perfect match for the style of Dutch Realism practiced by Heda and Claesz, as well as Old Masters like Jan Davidsz de Heem (1606-83) from Utrecht; Willem Kalf (1619-93) and Rachel Ruysch (1664-1750) from the Amsterdam school; Frans Snyders (1579-1657) of the Antwerp school and Harmen van Steenwyck (1612-56) of the Delft school. Pieter Claesz was admired for his sensitive representation of light and texture, and subdued, monochrome colour palettes, typically consisting of subtle tonal harmonies of grey, green and brown, occasionally with a sharp burst of yellow provided by a peeled lemon, although his still life arrangements gradually became more lavish and richer in colour after his mid-40s. Claesz influenced a number of contemporary Dutch still life painters, as well as the French still life painter Jean Chardin (1600-1779). His best works include: Still Life with Musical Instruments (1623, Louvre); Vanitas with Violin (1625, Germanisches Nationalmuseum); Still Life with Turkey Pie (1627, Rijksmuseum); Vanitas Still Life with Spinario (1628, Rijksmuseum); Still Life with Skull (1630, Mauritshuis, The Hague); Still Life with Roemer, Crab and a Peeled Lemon (1643, Art Gallery of South Australia, Adelaide); Still Life with Fruit and Roemer (1644, Museum of Fine Arts Budapest); Still Life with Salt Tub (1644, Rijksmuseum). (Note: A roemer is a large drinking glass.)
Career as a Still Life Painter
Born in Burgsteinfurt, Westphalia to Dutch parents, Claesz settled in Haarlem in 1617 where he joined the Guild of St. Luke and began his career as a painter. It is believed that he may have been a pupil of Floris Claesz van Dyck (1575-1651). At any rate, avoiding the more common types of art, such as genre painting and portrait art, Claesz became an early pioneer of table-top still lifes - quiet symbolic arrangements of dining objects together with foods like olives, herring, fresh fruits, crispy rolls and pastries - characterized by an extraordinary degree of naturalism and fine detail. Colour was restrained if not monochromatic, with subtle rendering of light and texture being the main methods of expression. Dutch still life painting was essentially a new small-scale form of Biblical art designed for domestic display, which typically conveyed a moral message about the transience of material objects and consumption. The latter was expressed through the use of symbolic objects (embodying time, impermanence or decay), like a watch, hour-glass, a wilted flower, a piece of fresh fruit, a skull, a guttering candle, and so on. In fact, the majority of all objects which appeared in this type of realist painting were carefully chosen for their symbolic references to the ephemeral quality of human life.
Pieter Claesz's career is commonly divided into three periods, each with a slightly different style. To begin with, up until about 1625 his pictures usually consist of a table laid with crockery, silverware, drinking glasses, spices and fruit, executed in clear crisp colour. Between about 1625 and 1640, in response to changing taste, he gradually reduced the number of items on display, often limiting himself to just one glass, a single plate and a herring, plus a bread roll. Also, he often resorted to the device of including a table edge to add depth to the painting. After 1640, he added more colour and more objects to his paintings, as well as a variety of luxurious dishes and fine glass, and a wealth of flowers, fruits and game. This later style influenced several other masters of pronkstilleven, including Abraham van Beyeren, Willem Kalf and Jan Davidsz de Heem, although Claesz never adopted the sumptuous assemblies of Jan Davidsz de Heem, or indeed the aristocratic items and polished finish of his Haarlem compatriot Willem Claesz Heda.
Claesz remained in Haarlem for the rest of his life. He died about 1660. He was survived by his son, Nicolaes Berchem, who enjoyed a successful career as a landscape painter.
The school of Dutch Realist Genre Painting and its associated school of still life slid into relative obscurity during the 18th and early 19th century. It wasn't until the mid-19th century when the French art critic Theophile Thore-Burger (1807-69) 'rediscovered' the work of Jan Vermeer (1632-75), Pieter de Hooch (1629-83), Samuel Van Hoogstraten (1627-78) and others, along with the still life painting tradition of Haarlem, that Pieter Claesz received the attention he deserved.
For more Dutch Realist artists of the 17th century, please see the following articles:
• Gerrit van Honthorst (1592-1656)
Follower of Caravaggio of the Utrecht school.
• Adriaen Brouwer (1605-38)
Antwerp and Haarlem artist best known for his tavern genre-paintings.
• Adriaen van Ostade (1610-85)
Painter of peasant scenes, of the Haarlem school.
• David Teniers the Younger (1610-90)
Antwerp painter, famous for his 'guardroom scenes'.
• Aelbert Cuyp (1620-91)
Landscape artist of the Dordrecht school.
Still lifes by Pieter Claesz can be seen in many of the best art museums around the world.