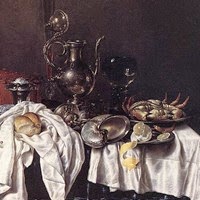 Still Life with Pie, Silver Ewer & Crab
(1658) By Willem Claesz Heda.
Frans Halsmuseum, Haarlem.
WORLDS TOP ARTISTS
For top creative practitioners, see:
Best Artists of All Time.
Willem Claeszoon Heda, a member of the Haarlem school of Dutch Realism, was an important contributor to vanitas still life painting of the 17th century. In particular, he is noted for his mastery of the genre known as "breakfast pieces" (ontbijt or ontbijtjes), a form of Protestant Reformation Art, which frowned upon human gluttony and sensual indulgence. Today, Heda and his contemporary Pieter Claesz (1597-1660) are considered to be the most influential representatives of this genre of Vanitas painting, and rank alongside other Old Masters involved in "banquet pieces" (pronkstilleven), such as Harmen van Steenwyck (1612-56) of the Delft school; Willem Kalf (1619-93) and Rachel Ruysch (1664-1750) from Amsterdam; Jan Davidsz de Heem (1606-83) from the Utrecht school; and Frans Snyders (1579-1657) of the Antwerp school. Some of his best works include: Breakfast Table with Blackberry Pie (1631, Gemaldegalerie Alte Meister); Still Life with Oysters, Rummer, Lemon and a Silver Bowl (1634, Rijksmuseum, Amsterdam); Still Life with Olives (1634, Museum of Fine Art, Ghent); Still Life with Gilt Goblet (1635, Museum Boijmans Van Beuningen, Rotterdam); Still Life with Oysters, a Silver Tazza, and Glassware (1635, Metropolitan Museum of Art, New York); Breakfast of Crab (1648, The Hermitage, St. Petersburg); Ham and Silverware (1649, Pushkin Museum of Fine Arts, Moscow); and Still Life with Pie, Silver Ewer and Crab (1658, Frans Halsmuseum, Haarlem).
Born in Haarlem, the son of the town architect Claes Pietersz, whose brother was the painter Cornelis Claesz Heda. Little is known about Heda's early life, and no paintings have survived from that period, although it is believed that he began his painting career around 1615. At any rate, he joined the Haarlem Guild of St. Luke, in which he became an active member during the 1620s. Although now lost to us, his early style of Vanitas painting appears to have been well thought of in the town, winning the praise of local Haarlem dignitaries such as the Dutch minister and poet Samuel Ampzing. He also produced a number of ontbijtjes (breakfast pieces) which differed significantly from those of his contemporaries, due to the balance and harmony of their composition as well as the special effects they contained. Furthermore they were executed in a monochromatic style (grey-green or brownish tonalities) which was soon to become his trademark.
Still Life Painting: Mature Style
Heda attained his artistic maturity in the 1630s with pieces like Breakfast Table with Blackberry Pie (1631, Gemaldegalerie Alte Meister) and Still Life with Oysters, a Silver Tazza, and Glassware (1635, Metropolitan Museum of Art, New York). Noted for their naturalism, which comes from their perfectly rendered draped fabric and assemblages of silver cutlery, goblets and fine glass, as well as their harmoniously arranged foods, they also demonstrate his mastery of light and colouration, and the fineness of his brushwork.
Heda's mature style continued to develop with the addition of new features such as the crinkled napkin and overturned vases to his display of objects. As far as food items went, he preferred to show mincemeat pie, ham and oysters. And for some strange reason, he never included an image of a herring in his paintings after 1629. During his late 50s Heda began to incorporate a wider colour-scheme into his still lifes. In addition he started to include more fruit and curled leaves to his works, and less glass and metal: a change that gave his works a softer appearance.
Often compared to his Haarlem contemporary Pieter Claesz, Heda was also bracketed along with the older Floris Claesz van Dyck (1575-1651), noted for his Bancket (banquet) still lifes, typically featuring pictures of cheese. He was also a friend of Dirck Hals (1591-1656), the younger brother of portraitist Frans Hals (1582-1666), who also lived in Haarlem.
During the 1660s Heda turned away from his specialist genre of breakfast pieces (ontbijtjes) towards the pronk style practiced by Willem Kalf and others. His colour pigments also showed a change as he introduced a warmer palette of browns associated with Kalf's works. He is believed to have abandoned painting around 1670, and he died in Haarlem about 1680. His pupils included his son Gerret Willemsz Heda (1625-49), as well as other Realist artists including Maerten Boelema de Stomme (1611-44), Gerret Willemsz Heda (1625-49), Hendrik Heerschop (1626-90) and Arnold van Beresteijn (c.1629-54).
Although revered by Haarlem critics, lack of information concerning Heda's life led to his being overlooked by most contemporary Dutch art historians and biographers. It wasn't until the reappraisal of Dutch Realist genre painting by the French journalist and art critic Theophile Thore-Burger (1807-69) - who also 'rediscovered' the great Jan Vermeer - that Heda's art became widely known and appreciated. After viewing Heda's Still Life with Gilt Goblet (1635) at the Boijmans Van Beuningen Museum in Rotterdam, Thore-Burger ranked him alongside the greats of the 17th century Dutch Baroque art, such as Jan Steen (1626-79), Samuel van Hoogstraten (1627-78), Pieter de Hooch (1629-83) and Gabriel Metsu (1629-67).
Still life paintings by Willem Claesz Heda can be seen in many of the best art museums throughout the world.
For biographies of other 17th century Dutch Realists, please see the following articles:
• Gerrit van Honthorst (1592-1656)
Caravaggist of the Utrecht school.
• Adriaen Brouwer (1605-38)
Famous for his tavern pictures.
• Rembrandt (1606-1669)
Virtuoso portrait artist, master of chiaroscuro.
• Jacob Van Ruisdael (1628-82)
Haarlem Landscape painter.