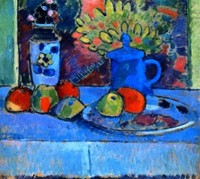 Still Life with Flowers and Fruit
(1910) By Alexei von Jawlensky.
Neue Nationalgalerie, Berlin.
STILL LIFE PAINTING IN IRELAND
Irish artists noted for their stll lifes
include Mark O'Neill (Classical),
Brian Ballard (Expressionist or
Colourist), James English (realist),
Peter Collis (Post-Impressionist)
and Conor Walton.
To beginners, pictures of still life may seem quite boring, when compared with action-packed history painting, evocative landscapes or emotional portraits. However, some of the greatest still lifes contain complex messages (narrative) encapsulated in the type of objects displayed and how they are arranged. Thus when studying a still-life composition, be aware that the items displayed may be symbols, infusing the picture with symbolic significance. As a result, although, like landscape, still life painting does not usually contain human forms, it is as capable of presenting a political, moral or spiritual message, as the most complex examples of history (istoria) painting. This conflicted with the 'official line' adhered to by advocates of academic art, that ranked still-life art as the lowest of the five genres, after: history, portraiture, genre-painting and landscape.
In simple terms, still lifes may be classified into four principal groups, including: (1) flower pieces; (2) breakfast or banquet pieces; (3) animal pieces. Many of these works are executed purely to demonstrate the technical virtuosity and drawing ability of the artist. Or they may be painted to convey a particular view of art (as in the case of Paul Cezanne's pre-Cubist still lifes) or to demonstrate artistic emotion (as in Van Gogh's 'yellow' sunflower studies).
Sometimes, however, an artist may have a more complex message in mind. Hence the final group (4) Symbolic Still Lifes. This is a wider category that denotes any type of still life with an overt symbolic narrative, usually religious or quasi-religious in nature. A specific example of such symbolism is the type known as Vanitas painting (so-called from Ecclesiastes 12:8 "Vanity of vanities saith the preacher, all is vanity") which contain symbolic images (eg. skulls, snuffed candles, hourglasses with the sand running out, watches, butterflies) to remind the viewer of the transience and triviality of mortal life. However, the symbolic imagery may be more overtly religious, comprising bread in some form, wine, water and other obscure references to the Eucharist, the Passion, The Holy Trinity or the Saints. One of the greatest exponents of this genre, which flourished between 1620 and 1650, was Harmen van Steenwyck (1612-56) from the Delft/Leiden schools.
History of Still Life Painting

Still-life art was not uncommon in the ancient world. Murals with still-life compositions have been discovered in numerous Egyptian tombs (presumably the foodstuffs displayed were intended to be used by the deceased in the Afterlife), and in Roman homes excavated at Herculaneum and Pompeii. See for example the 'Transparent bowl of fruit and vases' (c.70 CE) by an unknown artist, found in Pompeii). In addition, still-life artistry is actually referred to in the ancient Greek legend of Zeuxis and Parrhasius. However, during the medieval era following the fall of Rome (c.350) still-life painting disappeared completely. It reappeared in the early Renaissance, but merely as background for religious paintings, or as items in Jan Van Eyck's interiors, rather than a genre in its own right.