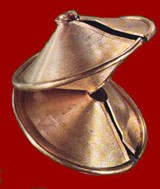 Lock Rings to Hold Hair in Place
(c.800-600 BCE). National Museum
of Ireland.
CHRONOLOGY OF
LATE PREHISTORIC ART
• Mesolithic Art
(from 10,000-variable BCE)
• Neolithic Art
(Ends about 2,000 BCE)
• Bronze Age Art
(c.3500-1100 BCE)
• Iron Age Art
(c.1100-200 BCE)
Celtic metalwork underpinned much of the artworks in Ireland during this period. Up to 400 tonnes of copper was mined in the southwest of the country (c.2500-1800 BCE), in County Kerry and Cork, then alloyed with tin brought over from Cornwall in England. Many bronze items were exported to the Continent from Ireland during this period.
As well as bronze artifacts, implements, and other decorative items, Irish craftsmen also developed a range of artworks in gold. Ireland was a relatively rich source of gold ore which stimulated an active cottage industry in this precious metal. This is evidenced not only by the considerable number of gold ornaments and artifacts, dating back to the Bronze Age, which have been unearthed in Ireland, but also by the variety of Irish gold items have been discovered throughout Europe.
At first, this gold-work comprised mainly simple shapes (like crescents) as well as disks of gold sheet. Later, Irish goldsmiths introduced the more intricate torque (torc) - a collar, with a bar or ribbon of metal, looped and twisted into a screw-shape.
In addition to gold torques, Bronze Age workers in Ireland produced a range of earrings and other gold jewellery. Examples include the great Lunala relics, bracelets, ear ornaments and clasps, balls and Torcs. Pottery was also made, but Bronze age earthenware was Beaker ware - a European style of pottery quite unlike the round-bottom type artifacts of the Neolithic period.
COMING OF THE CELTS
For the history of the Celts, who arrived in Ireland during the iron age, see: Celtic Culture. For their arts/crafts, see: Celtic art.