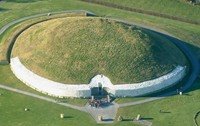 Aerial View of Newgrange Neolithic
Tomb Complex, County Meath.
(Source: see below)
IRISH HISTORICAL MONUMENTS
For a list of monuments of
historical, architectural or
artistic interest, please see:
Architectural Monuments Ireland and
Archeological Monuments Ireland.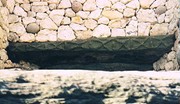 The Solstice Window at the Top of the Entrance to Newgrange, through which
a shaft of sunlight illuminates the
interior of the Passage Tomb at the
Winter Solstice.
Newgrange Megalithic Tomb (c.3300-2900 BCE)
History, Prehistoric Engravings
The Neolithic Passage Tomb at Newgrange (Dun Fhearghusa), part of the extensive Bru na Boinne complex in County Meath, is one of the most famous Megalithic monuments in the world and the most famous site of Neolithic art in Ireland. Carbon-14 dating methods indicate that Newgrange was constructed between c.3300-2900 BCE, that is 500 years before the Great Pyramid of Giza in Egypt, during the late Stone Age or early Bronze era. Megalithic art experts calculate it took a workforce of 300, about 20 years to complete.
Like other similar architectural examples of prehistoric tombs, Newgrange was precisely constructed to be aligned with solar activity: each year at dawn from the 19th to the 23rd of December, the rising sun illuminates the interior of the burial chamber for 17 minutes.
The cultural importance of Newgrange lies in its sophisticated design and the insight it provides into the values and capabilities of prehistoric Ireland. Although built partly as a necropolis, Newgrange - like other Passage Tombs - was an important ceremonial centre of the time. In addition, its intricate prehistoric engravings and other petroglyphs (like similar incised spiral motifs at the Knowth megalithic tomb) mark the first significant step in the history of Irish sculpture.
NOTE: For a guide to abstract symbols used in the Paleolithic and Neolithic, see: Prehistoric Abstract Signs (40,000-10,000 BCE).