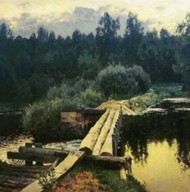 By the Whirlpool (1892)
Tretyakov Gallery. By Levitan.
The work is one of the most
famous landscape paintings of
the Russian Itinerants movement.
RUSSIAN ART MUSEUMS
For more about the top arts
galleries, see:
Hermitage Gallery St Petersburg
Tretyakov Gallery, Moscow
Pushkin Museum of Fine Arts Moscow
One of the best landscape artists among the progressive group of 19th century Russian artists known as the Itinerants (Wanderers), Isaac Levitan's main contribution to Russian art was his development of the "atmospheric landscape", achieved through his supreme mastery of colour, light and shade. Although the depiction of light was crucial to his compositions, as it was to those of Monet and Sisley, Levitan was a realist rather than an Impressionist. Devoted to naturalism and plein air painting, he had a gift for portraying all the seasons of the year, different times of the day and an infinite variety of natural views. Famous examples of his landscape painting include works like Secluded Monastery (1890, Tretyakov Gallery, Moscow), and Vladimirka (The Road to Vladimir) (1892, Tretyakov), as well as evocative works like Golden Autumn (1895, Tretyakov), Spring Flood (1897, Tretyakov), and Birch Grove (1889, Tretyakov), all bought by Pavel Tretyakov. Levitan was an active participant in artistic life; he gave lessons at the Moscow School of Painting, where he himself had trained, was actively involved the Moscow Club of Literature and Art, and exhibited regularly with such associations as the World of Art and the Munich Secession (1892). Now ranked among the top modern artists within the landscape genre, Levitan is considered to be one of the most influential figures in Russian Painting of the 19th-Century.