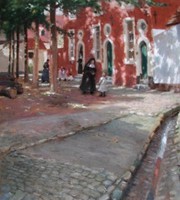 The Red Houses. (1912)
By Norman Garstin, member of the
Newlyn School of landscape painting.
ART APPRECIATION
To learn how to read a painting
see: How to Appreciate Paintings.
Russian Plein Air Painting
In Russia, in 1863, Ilya Repin (1844-1930), Isaac Levitan (1860-1900) and other progressive members of the St Petersburg Academy of Art, formed a group of painters known as the Wanderers, (known as the peredvizhniki or Itinerants) who toured the country painting rural scenes entirely in the open air to raise awareness of conditions outside the cities. Plein air naturalism had already taken root in Russia, however, in the work of landscape painters like Ivan Shishkin (1832-98), nicknamed 'the Czar of the forest.'
Impressionism
The high point of plein-air art came with the emergence of Impressionism, the world famous art movement named after the picture Impression, Sunrise (1873) by Claude Monet (1840-1926). As well as Monet - who became famous for a wide range of outdoor works, notably his series of water-lilies - other leading exponents of Impressionist landscape painting included Pierre-Auguste Renoir (1841-1919), perhaps the greatest painter of 'dappled light' in the history of art, the Parisian-born Englishman Alfred Sisley (1839–1899), and the anarchist-inclined Camille Pissarro (1830-1903). For more about their style of art, see: Characteristics of Impressionist Painting 1870-1910.
Examples of Impressionist Plein Air Paintings
Since Impressionism represents the apogee of painting en plein air, here are some of its finest works:
- La Grenouillere (1869) by Monet.
- Beach at Trouville (1870) by Monet.
- Canal St Martin (1870) by Sisley.
- Chemin de la Machine, Louveciennes (1873) by Sisley.
- Poppy Field (Argenteuil) (1873) by Monet.
- Dance at Le Moulin de la Galette (1876) by Renoir.
- Gare Sainte-Lazare (1877, Musee d'Orsay) by Monet.
- Vegetable Garden with Trees in Blossom, Spring, Pontoise (1877) Pissarro.
- Path Leading Through Tall Grass (1877) by Renoir.
- The Red Roofs (1877) by Pissarro.
- Snow at Louveciennes (1878) by Sisley.
- The Bridge at Maincy (1879) by Cezanne.
- Mont Sainte-Victoire paintings (1882-1906) by Cezanne.
- Water Lilies (Nymphéas) (1897-1926) by Monet.
- Water Lily Pond: Green Harmony (1899) by Monet.

Post-Impressionist artists Paul Cezanne (1839-1906) and Vincent Van Gogh (1853-1890) continued the tradition: Cezanne with his use of grid-like structures with which he slowly built up his compositions in his open air pursuit of French Classical painting traditions; Van Gogh in his manic, highly personal and rapid rendering of the landscape around Arles. One should also note that plein-air work was encouraged and facilitated not only by its freedom from studio rents, but also by the invention of the metal tube in which slow drying oil paint could be stored almost indefinitely.
The "Glasgow Boys" - members of the Glasgow School of Painting (1880-1915) were the first Scottish painters to paint en plein air. They included: Robert Macaulay Stevenson (1854-1952), James Paterson (1854-1932), William York Macgregor (1855-1923), John Lavery (1856-1941), George Henry (1858-1943), James Guthrie (1859-1930), William Kennedy (1859-1918), Edward Arthur Walton (1860-1922), Joseph Crawhall (1861-1913), Alexander Roche (1861-1921), and Edward Atkinson Hornel (1864-1933). They were followed by the Scottish Colourists - Samuel John Peploe (1871-1935), Francis Campbell Boileau Cadell (1883-1937), John Duncan Fergusson (1874-1961), and George Leslie Hunter (1877-1931) - who were strongly influenced by Fauvism.
For details of colour pigments, natural dyes and hues used in fresco, tempera, encaustic, oils and watercolours, see: Colour in Painting.
Plein Air Painting Today
Typically, painting a picture in the open air requires rapid composition and brushwork, neither of which is feasible unless the artist is familiar with the fundamentals of drawing. Thus it is no surprise to learn that many, if not most, outdoor painters were academically trained in life-drawing and other academic art subjects, such as linear perspective. Unfortunately, in today's colleges of fine art, this type of basic training is no longer seen as necessary - far less 'essential' - for would-be painters, who instead are encouraged to 'create' and 'express themselves' in a variety of media, without the need for methodical learning. While this focus on freedom of expression may facilitate variety and the development of new forms of artwork, it fails to inculcate the values and skills needed for outdoors painting. Because of this, more and more traditional artists are voicing their dissatisfaction with modern methods of teaching art, and with the reluctance of official arts bodies to promote the principles of painterly craftsmanship.
See also: Plein-air painting in Ireland.