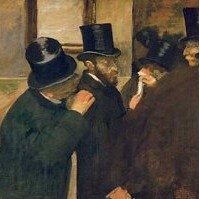 Portraits at the Bourse (1878)
Musee d'Orsay, Paris. By Edgar Degas.
WORLD'S TOP PORTRAITURE
See: Best Portrait Artists.
Berthe Morisot, herself an Impressionist, completed Portrait of the Artist's Mother and Sister (1869) and The Cradle (1872). Similar to Manet in style, was the Swedish portraitist Anders Zorn, who executed a variety of plein-air nudes as well as numerous portraits of the rich and famous. His works include: Mrs Walter Rathbone Bacon (1897), Hugo Reisinger (1907) and Mrs John Crosby Brown (1900). Claude Monet, the founding member of Impressionism, focused on landscapes but also painted several portraits including: Madame Monet and Her Son Jean (1875). His fellow Impressionist, Auguste Renoir also created numerous nude portraits, such as the unusual El Greco style Young Boy with a Cat (1868), the close-up portrait The Reader (1874) and the dappled Nude in the Sunlight (1876). Frederic Bazille (1841-70) is noted for The Family Reunion (1867), while Edgar Degas executed numerous portraits, such as: The Bellelli Family (1858-67) and Portraits at the Bourse (1879), as well as genre-portraits, of which the most celebrated example is Absinthe (1876). Likewise, the poster-specialist Toulouse-Lautrec populated his genre paintings of night clubs (eg. At the Moulin Rouge, 1892) with mini portraits of friends and real-life personalities.
Neo-Impressionism also featured pictures, such as Model: Front View (1886), by Georges Seurat, founder of the Divisionist technique known as Pointillism which broke down colour into dots of pigment.