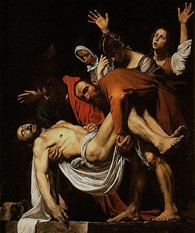 The Entombment of Christ (1601-3)
Pinacoteca Vaticana, Rome.

EVOLUTION OF VISUAL ART
For details of art movements
and styles, see: History of Art.
Annibale Carracci's Classicism
Annibale Carracci (1560-1609), influenced by Federico Barocci (1526-1612) and others, produced an idealistic naturalism based on Classical models, and though he could depict everyday scenes with remarkable truth, his world is an idealised one, based on the Classical concepts of harmony and balance. His followers, mainly from Bologna and known as the Bolognese School, likewise developed a calm style of classicism strongly opposed to the vividly realistic, dark and dramatic style of Caravaggio. Aside from the Carracci family - that is, Ludovico Carracci (1555-1619) and Agostino Carracci (1557-1602) - leading figures in the Bolognese School included: Francesco Albani (1578-1660), Domenichino (Domenico Zampieri) (1581-1641), Giovanni Lanfranco (1582-1647), Guercino (Giovanni Francesco Barbieri) (1591-1666) and Guido Reni (1575-1642), all of whom were important contributors to the development of 17th century Baroque painting in Rome, Venice and Naples. (See, for example, Painting in Naples.)
By far the most Classicising of Annibale Carracci's followers was Domenichino (1581-1641). His fresco paintings in San Luigi dei Francesi, Rome, have a simplicity and austerity that is lacking in the more sensual and sentimental works of others like Guido Reni (1575-1642). This quieter style of painting was greatly admired by the highly intellectual French classicist painter, Nicolas Poussin (1594-1665). See also the work of Carlo Maratta (1625-1713), who became the leading Baroque artist in Rome after the death of Bernini. One of the most important categories of art developed by the "classical" painters of the 17th century was landscape painting. In Annibale Carracci's Flight into Egypt (1604) the figures have been totally overwhelmed by a landscape which, though containing much naturalistic detail, is a highly ordered and tidied-up vision of nature. This work was crucial for the development of the ideal landscape, a type of painting particularly associated with the French artists Poussin and Claude Lorrain (1600-82), and which became the most accepted form of landscape painting, lasting well into the 19th century.