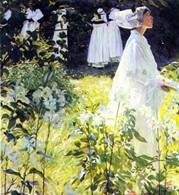 A Convent Garden (c. 1911)
A great example of the tradition of
plein-air painting in Ireland.
The work demonstrates Leech's skill
as a colourist. His palette is strong
and vivid, his composition clever
but strangely static. The painting is
one of the most often reproduced
works by an Irish artist. It includes
a portrait of Leech's first wife -
Elizabeth Saurine Kerlin - she is
the young novice holding a prayer
book who appears to glide past in
the right foreground.
Later that year, Leech visited the small Breton village of Concarneau (a latter day Barbizon landscape school) and painted there on and off until 1917. He became noted for his illustrations of its harbour. In fact, Concarneau had become something of an artist's colony, attracting among others Aloysius O'Kelly and John Lavery, both of whom became Leech's friends and influenced his paintings.
Curiously, not unlike Osborne's paintings, Leech's early French pictures were completed in darker colours. It took a little time for him to develop the bright rich colour palette which became his hallmark. However, as his plein-air painting developed, he rapidly developed an appreciation of sunlight and deep shadow.
Leech also shared much in common with fellow artist Roderic O'Conor. Both men studied in Paris and in the villages of Brittany, both painted interiors, demonstrating an interest in indoor and reflected light. Above all, both men shared a passion for colour.
During their time in Brittany, they studied and absorbed the methods of Impressionism, and their paintings show signs of Van Gogh and Matisse. In Leech's case, however, other more conservative influences were at work including those of William Orpen and Norman Garstin, and his later English paintings are similar to works by contemporary British painters, such as Gerald Kelly and William Nicholson.