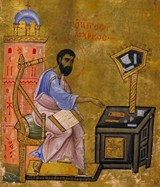 Saint Mark the Evangelist (c.1100)
by Unknown Artist.
For other library collections of
Muslim culture, see:
Museums of Islamic Art.
Eastern Arts and Culture
The library's Islamic collection consists of almost 4,000 Arabic, Persian and Turkish manuscripts including many exceptionally rare copies of the Qur'an. The collection is noted around the world for the high quality and scope of its exhibits, which include examples of the earliest Islamic manuscripts, dating to the ninth and tenth centuries CE, (third century of hijra). Indeed, the Chester Beatty's Qur'an Collection is comparable only to that of the Topkapi Sarayi museum in Istanbul, Turkey. Collection highlights include the magnificent Qur'an written by the famous calligrapher Ibn al-Bawwab in Baghdad in 1001, and a Qur'an dating from 972, the earliest-dated Qur'an copied on paper, and another transcribed some 900 years later for the Ottoman Sultan 'Abdulmecid.
Other highlights of Islamic art and culture in the Chester Beatty Library, include its collection of single-page paintings and a rare collection of Persian miniature paintings.