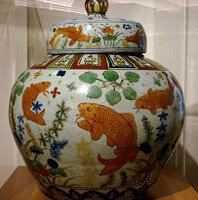 Jar with Carp Design (1522-66)
Indianapolis Museum of Art
Ming Dynasty Art (1368-1644).
FINE ARTS
See our guide to the art of
Painting (oils/watercolours), or
Sculpture (marble/bronze), or
Printmaking (etching/lithography).
The museum was founded in 1883 by the Art Association of Indianapolis, led by the suffragette head-teacher May Wright Sewall (1844–1920). The museum's first exhibition (453 exhibits by 137 artists) was held in 1883 at the English Hotel, and its popularity helped to launch the Art Association as a noteworthy influence in the culture of the city. Twelve years later, the Association was endowed with $225,000 from the estate of Indianapolis businessman John Herron in order to build a permanent art gallery and school. The first permanent museum duly opened its doors in 1906 as part of the John Herron Art Institute. In 1910, the museum held its first major show at the Herron Museum - a retrospective of the work of Dublin-born American sculptor Augustus Saint-Gaudens (1848-1907), noted for such works as the General Sherman Monument (1897-1903, Grand Army Plaza, New York). Over 55,000 visitors saw the exhibition during its three-month run, setting an attendance record that lasted for eighty years. In 1969, the long-serving Art Association of Indianapolis changed its name to the Indianapolis Museum of Art, and in the following year relocated to its present site at Michigan Road and 38th Street.
In 2005, the museum received a 3-year, $74 million renovation, which added three additional wings and 50 percent more gallery space - a total of some 164,000 extra square feet. The aim was to unify the building and campus and at the same time to provide a more convivial environment for visitors. In 2010, the Indianapolis Museum of Art was put in charge of all commissions for the United States pavilion at the Venice Biennale Exhibition.

The museum's development from a small local arts association to its current status as a major American institution, is due largely to the generosity of private benefactors and art collectors including: Eliza Niblack, Caroline Marmon Fesler, Eli Lilly, George and Edith Clowes, Kurt Pantzer, Samuel Josefowitz, Ruth and J.K. Lilly III, Christopher and Ann Stack (contemporary art), and Enid Goodrich, the widow of Pierre Goodrich, to name but a few.
Highlights of the Permanent Collection
The IMA permanent collection spans 5,000 years and numbers over 54,000 items, including African, American, Asian, and European artworks. Highlights include: a special collection of Chinese art (ceramics, jades and bronzes); Japanese art (hanging scrolls and screens of the Edo period); Korean art (c.57 CE onwards); oil painting by Old Masters including Lucas Cranach, El Greco, Jusepe de Ribera, Peter Paul Rubens and Rembrandt; the largest series of watercolour painting by the English landscape genius J.M.W. Turner outside Britain, featuring 50 watercolours, as well as oil paintings and etchings; the largest public collection of Neo-Impressionism in America; over 100 works by Paul Gauguin and the Pont-Aven School of landscape painting; modern art by artists like Cezanne, Van Gogh, Toulouse-Lautrec, Matisse, Picasso, Modigliani and Chagall; and an important assembly of contemporary art.
• Ancient Art of the Americas
Includes pre-Columbian art from all major Mesoamerican cultures, such as the Olmec, Maya, and Colima cultures.
• Ancient Art of the Mediterranean
Includes artifacts from the Minoan, Mycenean, Ancient Greek and Roman civilizations.
• Art of Asia
The museum's collection of Asian art features 400 works of art illustrating 4,000 years of Asian art from Japan, China, Korea, Tibet, the Indian sub-continent, as well as and West and Southeast Asia. Major highlights include A Thousand Peaks and Myriad Ravines, a Ming Dynasty work by Wu Bin, and Buddhist, Daoist, and Confucian Patriarchs.
• African Art
Features African art representing all major cultures of the continent, including tribal art from Northern, Eastern, Central, Southern and Western Africa, as well as Islamic and Ancient Egyptian artifacts.
• Oceania
Oceanic art (artifacts, masks and decorative works) from Melanesia, Polynesia, Micronesia and Indonesia.
• European Painting and Sculpture to 1945
Features painting, sculpture, prints and decorative arts from the Medieval era, including Gothic, Renaissance art, Baroque, Dutch Realist and 18th-century schools, as well as modern art involving French Impressionism and Post-Impressionism, among other styles.
• American Painting and Sculpture to 1945
This wide-ranging collection illustrates several American styles, including American Scene Painting, Regionalism, Precisionism among others, with works by George Inness, Winslow Homer, Georgia O'Keeffe, Edward Hopper, and many others.
• Prints, Drawings and Photographs
This collection, the largest in the museum, embraces more than 26,000 works on paper, from medieval illuminated manuscripts to contemporary fine art photography.
• Textile and Fashion Arts
This huge collection comprises 7,000 items, including African textiles, Baluchi rugs, silks, antique laces, one-off designs by Givenchy, Chanel, and Balmain. The IMA's Design Arts collection consists of European and American pieces from the 15th-century Renaissance to the present.
• Design Arts
Post-1950 works based around the IMA's new Design Arts Gallery situated in the Lori Efroymson Aguilera & Sergio Aguilera Gallery.
• Contemporary Art
Includes new forms such as assemblage, collage, installation, video and conceptual art.
Looking Ahead
With a newly renovated and expanded campus, together with its ongoing program of temporary exhibitions, conservation projects, online arts services and design projects, as well as the development of its contemporary art collection, the Indianapolis Museum of Art is now one of the top arts institutions in the USA, and well positioned to cater for the cultural needs of its city and state well into the 21st century.