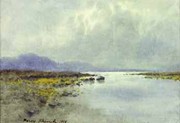 Reflections, West of Ireland, by
Roscommon artist Percy French.
MONUMENTS OF IRISH CULTURE
For a list of national sites of
noted historical, architectural or
artistic significance, see:
Architectural Monuments Ireland and
Archeological Monuments Ireland.
Famous Artists
Celebrated Irish artists born in County Roscommon include the internationally acclaimed Impressionist/Expressionist Roderic O'Conor (Landscape and Interiors), as well as Percy (William) French, (Watercolourist, Musician and Illustrator) and Patrick Ireland, born Brian O'Doherty, (Sculptor, Conceptual and Installation Artist).
Roscommon Arts Centre
This Centre is County Roscommon's only purpose-built art venue. Situated in Roscommon Town, the Arts Centre encompasses a 194-seat performance area along with exhibition and workshop spaces. It stages a multi disciplinary arts program throughout the year, including visual art shows with fine art painting, sculpture along with more modern art forms. For example, a recent show entitled "Skywatcher" featured Martin Healy, a video and installation artist. The Arts Centre is now developing a new program of arts based workshops, to enhance its current art calendar. They are seeking to establish a permanent panel of artists working in all art media who can provide arts workshops in the county. Extensive workshop facilitation training will be given to all panel members, upon completion of which only panel members will be recommended by Roscommon Arts Office to other groups and educational institutions within the county.