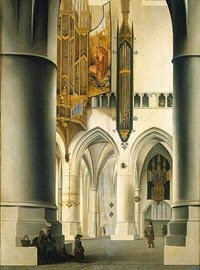 Interior of the church of St Bavo
in Haarlem, seen from the south
ambulatory (1636). Painted by
Piter Saenredam.
WORLDS GREATEST ARTISTS
For the top painters and sculptors,
see: Best Artists of All Time.
WORLD'S BEST PICTURES
See: Greatest Paintings Ever.
One of the great Old Masters known for his distinctive paintings of whitewashed church interiors, Pieter Jansz Saenredam edges out his younger contemporary Emanuel de Witte (1615-1692) as the greatest architectural painter during the Golden Age of Dutch Baroque Painting (c.1600-80). Active mainly in the city of Haarlem, he was the first artist to produce architecturally faithful depictions of buildings, rather than the more imaginative inventions championed by Mannerism, which had been the dominant style of the late 16th century. In this sense he was one of the purest of Dutch Realist artists, whose down-to-earth Protestant art contrasted with the more dramatic and flamboyant Catholic Counter-Reformation Art (1560-1700). His particular style of Dutch Realism with its focus on architectural truthfulness distinguishes him from de Witte, whose church interiors were sometimes augmented (effectively but fancifully) with elements from other buildings. A master of drawing, Saenredam relied heavily on preparatory sketching to achieve the exactitude of perspective and proportion he sought, and it was this professional approach that made him so influential in Baroque Painting throughout the Low Countries. In his particular brand of Christian art, he achieved what Rembrandt (1606-1669), Jan Vermeer (1632-1675) and Harmen van Steenwyck (1612-56) did for portraiture, genre painting and vanitas still lifes, respectively. Among his best known oil paintings are a matching pair both titled "Interior of the Buurkerk, Utrecht" (1644). One is displayed in the National Gallery, London; the other is part of the collection of the Kimbell Art Museum in Fort Worth, Texas. For more about the chronology of Netherlandish painting, see: History of Art Timeline (2,500,000 BCE - Present).
Pieter Jansz Saenredam acquired the rudiments of sketching and painting from his father, an engraver, before being apprenticed at the age of 15 to Frans Pietersz de Grebber (1573-1649), the landscape and portrait specialist. Sadly, although exceptionally talented as an artist, Saenredam suffered both from his short stature and a spinal deformity (he was a dwarf and hunchbacked). In 1622, he joined the Guild of St Luke in Haarlem, and in 1626 produced his first serious example of Biblical art, entitled: "Christ Expelling the Merchants from the Temple".
Despite this early experimentation with religious art and his occasional contributions to the school of Dutch Realist genre painting, Saenredam is known chiefly for his paintings of churches. And his knowledge of Baroque architecture gleaned through his friendship with Dutch Baroque architects like Jacob van Campen (1596-1657), Salomon de Bray (1597-1664) and Pieter Post (1608-69), may explain the austerity and severe lines of these works. His fifty-six known paintings are of a mathematical precision, and were usually preceded by elaborate sketches and very accurate drawings, with the perspective projection fully worked out. About 140 of these are known at the present time.
Saenredam executed his drawings in chalk as well as pencil and pen, before painting in watercolour in order to give the image texture and colour. His drawings are exceptionally detailed, and use light and graduated shadows to convey the interior atmosphere. Most importantly, they record precise interior measurements that enabled him to create scientific linear perspective, just like Andrea Pozzo (1642-1709) the Italian quadratura specialist.
His compositions often omit people and church furniture from work, allowing the viewer to concentrate on the buildings themselves and their architectural forms. His preference for even light and geometry is best appreciated by comparing his paintings with those of Emanuel de Witte, who included people and animals, as well as church furniture, together with powerful contrasts of light.
Saenredam travelled throughout the Low Countries to study the essential characteristics of the monuments he drew. In 1632 he visited Hertogenbosch - home of the Dutch Renaissance artist Hieronymus Bosch (1450-1516) - where he made drawings of the "Interior of St John's Cathedral" (British Museum; Royal Museums of Fine Arts of Belgium). He returned to Assendelft, then went to Alkmaar (1634) and Haarlem (1635-6), where he painted the "Church of St Bavon" (Rijksmuseum; Warsaw Museum). In 1636 he journeyed to Utrecht where he drew "St Martin's Cathedral" (Municipal Archives, Utrecht), the "Church of St James" (Boijmans Van Beuningen Museum, Rotterdam), the "Church of St John" (Hamburg Museum) and the "Church of St Mary" (Teyler Museum, Haarlem).
One of his most productive periods was during his stay in Amsterdam (1641) where he painted national historical monuments in opposition to the Italianate trend of the time. From this period date drawings representing the Old Town Hall in Amsterdam, which were preparatory sketches for the large, luminous view of the same building (1641-57, Rijksmuseum). Also in 1641 he painted the "Interior of St Mary's in Utrecht" (Rijksmuseum), a work of great austerity, and in 1642, "St James's Church in Utrecht" (Alte Pinakothek, Munich). The following year he executed a "View of the Pantheon" from drawings made in Italy by Maerten van Heemskerck (Berlin-Dahlem). One of his most famous works, the "Interior of the Odulphuskerk in Assendelft" (Rijksmuseum), a veritable symphony of ochres, whites and greys, dates from 1649. Then he produced a series of views of Haarlem that included the Nieuwe Kerk (1650-5), built a short while before by his friend Jacob van Campen.
Saenredam returned to Alkmaar in 1661, where he painted the "Church of St Lawrence". In Utrecht (1663) he painted "St Mary's Square"; the preparatory sketch is in the Teyler Museum in Haarlem. Saenredam's church interiors, more severe than those of Emmanuel de Witte, are typical of the monochrome theme of 17th Century Dutch painting. His cool subtle choice of colours is taken mainly from the whites and beiges. In other respects, the scientific precision of his architectural paintings, the limpidity of the atmosphere, the precision and clarity of his formal language, not only sets him above contemporaries such as Gerard Houckgeest (1600-61) and Hendrick van Vliet (1611-75), but also lends a quasi-abstract quality to his work, that foreshadows 20th-century modernist compositions by Piet Mondrian (1872-1944) and Lyonel Feininger (1871-1956).
For more about painting in Holland, Flanders and the rest of the Low Countries, see these articles:
• Netherlandish Renaissance Art (1430-1580)
History and characteristics of Dutch/Flemish painting.
• Flemish Baroque Painting (1600-80)
17th-Century fine art traditions of Flanders.
• Flemish Painting (c.1400-1800)
Origins, History, Development.