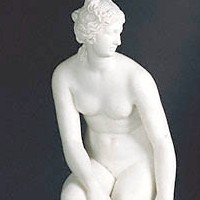 Venus (1773)
J Paul Getty Museum, Los Angeles.
The most famous work of
neoclassical sculpture by
Joseph Nollelens.
NEOCLASSICAL ART
For a guide: Neoclassical artists.
Joseph Nollekens (1737-1823)
The Anglo-Flemish neoclassical sculptor Joseph Nollekens first established himself in Rome (1762-1770), where he copied, restored, faked and dealt in antique sculpture as well as terracotta works by Renaissance masters. In this historical centre of art, Nollekens absorbed all he could from Greek sculpture, and the best of Italian Renaissance sculpture, perfecting in the process a style of neoclassical art that quickly earned him a reputation and a small fortune. He had a flair for portrait art, and on his return to England in 1770 he set up a flourishing practice, which also supplied rococo designs for garden sculpture, and funerary monuments. He is best known for the classicism of his portrait busts in plaster or marble, and the occasional mythological statue, such as Venus (1773, J Paul Getty Museum, Los Angeles). Like the French sculptor Jean-Antoine Houdon (1741-1828), Nollekens' leanings were towards the Baroque, as well as the antique, although later in life he preferred the style of Roman sculpture for his busts. He was one of the most successful neoclassical sculptors, and left the equivalent of £1 million in his will.