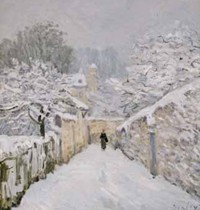 Snow at Louveciennes (1878)
Musee d'Orsay.
By Alfred Sisley, the most underrated
of all the French Impressionists.

The Seine at Bougival (1872)
Private Collection.
By Claude Monet.
Claude Monet
The leading member of the French Impressionist School, its most prolific landscape artist, and the most ardent advocate of 'pure' Impressionism - meaning 'paint exactly what you see, without trying to interpret it' - was Claude Monet (1840-1926). It was his painting Impression, Sunrise (1872) which in 1874 gave its name to the movement, and his later works - such as the 'Series' paintings of railway stations - see Gare Sainte-Lazare (1877) - haystacks and water lilies, where he painted the same subject dozens, if not hundreds of times - reflect his lifelong fascination with the portrayal of light. For his lily paintings, see for instance: Water Lilies (Nymphéas) (1897-1926, various art museums); and The Water Lily Pond: Green Harmony (1899, Musee d'Orsay, Paris). For other plein-air landscapes, see: La Grenouillere (1869, Metropolitan Museum, NY); The Beach at Trouville (1870, Wadsworth Atheneum); and Poppy Field (Argenteuil) (1873, Musee d'Orsay). Like other Impressionists, he was also an avid student of natural effects such as snow and mists. (Note: For an explanation of 19th century landscapes by Impressionist painters, see: Analysis of Modern Paintings 1800-2000).
French Impressionist Landscapes
Derived from the plein air painting traditions of the Barbizon school of landscape painting, Impressionism in France encompassed many famous painters and many individual styles, and its paintings ranged across all genres, from landscape and still life to portraiture and genre scenes. Its treatment of landscape however, was central to its existence, and reflects its unique contribution to the history of Western art. Among its principal exponents who painted landscapes were Camille Pissarro (1830-1903), Pierre-Auguste Renoir (1841-1919), and Alfred Sisley (1839-1899).
For more, see: Characteristics of Impressionist Painting 1870-1910.