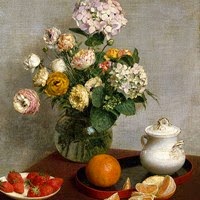 Fleurs et fruits (1865)
By Henri Fantin-Latour
Musee d'Orsay.
This painting tells no story. Instead,
it appeals purely to the eyes. Thus it
embodies one of the main aims of
modern art.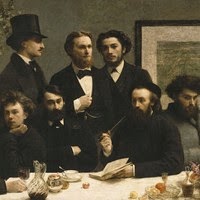 By the Table (1872)
By Henri Fantin-Latour
Musee d'Orsay.
Group portrait featuring
Standing: Elzear Bonnier,
Emile Blemont, Jean Aicard;
Sitting: Paul Verlaine, Arthur
Rimbaud, Leon Valade and
Ernest d'Hervilly.
WORLDS BEST PAINTERS
For top creative practitioners, see:
Best Artists of All Time.
WORLD'S FINEST ART
For the best works, see:
Greatest Modern Paintings.
MODERN PAINTERS
For more French artists like
Henri Fantin-Latour,
see: Modern Artists.
French painter Henri Fantin-Latour was best known for his still life painting of flowers, closely followed by his portrait art typically featuring group portraits of contemporary French artists. The latter included Impressionist painters like Manet (1832-83), Renoir (1841-1919), Frederic Bazille (1841-70) and Claude Monet (1840-1926). Despite his association with the Parisian avant-garde, Fantin-Latour's style of painting was oriented more towards academic art of the Salon rather than new movements like Impressionism or even Realism. Indeed, his oils were executed in the sort of precise and polished detail favoured by the Academy. His greatest portrait paintings include Homage to Delacroix (1864, Musee d'Orsay) and A Studio at Les Batignolles (1870, Musee d'Orsay). In addition to his painting, he excelled at lithography and other types of printmaking.
Born Ignace Henri Jean Theodore Fantin-Latour in Grenoble, south-east France, he received lessons in drawing from his father, a well-known portrait painter. In 1850 he entered the School of Drawing (Ecole de Dessin), where he studied under Professor Lecoq de Boisbaudran (1802-97). In 1854 he entered the Ecole des Beaux-Arts and - like most aspiring painters of the day - spent a great deal of time copying the paintings of the Old Masters in the Louvre. He also exhibited his work at the official French Salon, but in 1863 he also showed his work at the 'alternative' Salon des Refusés (1863), alongside other progressive artists like Gustave Courbet (1819-77), Paul Cezanne (1839-1906), Camille Pissarro (1830-1903), Johan Jongkind (1819-1891) and James Whistler (1834-1903).
Although he painted many different types of picture, including romantic figure subjects, portrait groups and still lifes, as well as images of fantasy inspired by music, it was his classical still-lifes - influenced by the great Jean Chardin (1699-1779), the Utrecht master Jan Davidsz de Heem (1606-84), and the Amsterdam artists Willem Kalf (1619-93) and Rachel Ruysch (1664-1750) - that brought him commercial success. From the 1860s, he was a regular visitor to England, where his still-lifes were enthusiastically received, thanks - in part - to the recommendations of James Whistler and John Everett Millais, and the financial support of his principal patron Edwin Edwards. Indeed, his flower pieces sold so well that they were almost impossible to acquire in France during his lifetime. Examples include Fleurs et fruits (1865, Musee d'Orsay) and Flowers and Fruit (1866, Toledo Museum of Art).
Interestingly, still life remained the least important of all the painting genres, according to the official Hierarchy of Genres, laid down by the Academy. By choosing it, was Fantin-Latour deliberately challenging the official aesthetics of the French establishment?
Fantin-Latour made numerous friends and acquaintances among the artistic and literary avant-garde, including painters such as the classical academician J.A.D. Ingres, the Romanticist Eugene Delacroix, the Barbizon landscape artist Camille Corot, the realist Gustave Courbet, and the influential 'Impressionist' Edouard Manet. Most of his friends appeared in his group portraits - composed in a similar style to the 17th-century guild portraits by Frans Hals (1582-1666) and Rembrandt (1606-1669) - of which the most famous, are: Homage to Delacroix (1864); A Studio at Les Batignolles (1870); and By the Table (1872).
Both his portraits and still lifes were carefully composed and show traces of symbolism as well as items of admiration - such as Japanese objects reflecting his appreciation of Japonism and similar styles.
In 1875, at the age of 39, Henri Fantin-Latour married a fellow flower painter, Victoria Dubourg (1840-1926), after which he spent every summer on her family estate in Normandy.
Much of his later career was devoted to lithography. In the Salon of 1876, for instance, he exhibited L'Anniversaire, commemorating the French Romantic composer Hector Berlioz (1803-69), after which his lithographs were shown at regular intervals. Most characteristic were his imaginative prints illustrating the music of Richard Wagner, Berlioz, and other composers. In addition he did the illustration for Adolphe Jullien's biographies of Wagner (1886) and Berlioz (1888). He died in late August 1904, in Normandy.
For more about French painting in the second half of the 19th century, see the following articles.
• Realism to Impressionism (1830-1900)
• Realist Painting in 19th Century France (1800-1900)
• Characteristics of Impressionism (1870-1910)
Portraits and flower paintings by Henri Fantin-Latour can be seen in some of the best art museums around the world, notably the famous Musee d'Orsay in Paris..