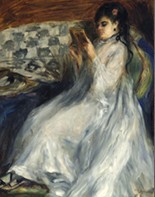 Young Woman in White, Reading,
by Pierre Auguste Renoir the
French Impressionist.
National Gallery of Ireland
European Paintings in the Permanent Collection
Among the Gallery's collection of 14,000 works of art - the largest collection of visual art in Ireland - are a number of masterpieces by European artists and Old Masters from the Italian, Spanish, Flemish, Dutch and French Schools. The Italian School is represented by altarpieces and Renaissance treasures by Titian, Fra Angelico and Mantegna, and one of the best collections of 17th century paintings outside Italy. The Gallery displays a recently discovered Caravaggio, as well as large Baroque canvases by Lanfranco, Maratta, Rubens and other outstanding artists.
Paintings of the Spanish school which hang in the National Gallery of Ireland are mainly religious in content, with an El Greco and altarpiece from the Escorial Palace by 'El Mudo' among the early artworks. Seventeenth century examples include a Velázquez, four paintings by Goya and pictures by Murillo and Zurbarán.