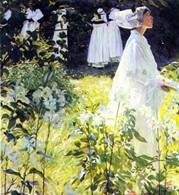 A Convent Garden by Irish Artist
William Leech.
National Gallery of Ireland
Irish Paintings in the Permanent Collection
The development of Irish painting is illustrated from the seventeenth century to the twentieth century, the latter featuring outstanding works by Jack B. Yeats (1871–1957) and Louis le Brocquy (1916-2012), Ireland's two most important artists of modern times.
The collection features a wide selection of Irish portrait artists, Irish genre painters and Irish landscape artists, with works of portraiture by James Barry (1741–1806), Hugh Douglas Hamilton (1740–1808), Sir John Lavery (1856–1941), Sir William Orpen (1878-1931); landscape painting by Roderic O'Conor (1860–1940), Nathaniel Hone the Elder (1718–84); and genre scenes by Francis Danby (1793–1861), Walter Osborne (1859–1903), and William John Leech (1881–1968), to name but a few.